Vin Diesel Will Be xXx Once Again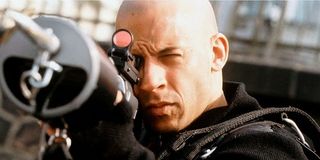 Some characters live, some characters die, some characters are reborn. And then there's Xander Cage, Vin Diesel's alter ego in xXx. A secret agent for a new era, Cage is into extreme sports, loud music, and telling The Man where to stick it. So edge, much tough. We haven't seen Cage in a dozen (!) years, but he'll never leave our memory. And now Diesel will honor that memory with xXx 3: The Return Of Xander Cage. Are you ready to re-enter the Xander Zone?
Vin Diesel provided an update to Collider regarding all his upcoming films, and among those movies were a few surprises, not the least of which is xXx 3. His latest, The Last Witch Hunter, is about to start shooting, and Diesel is proud to announce that Sir Michael Caine has joined the cast, as has Rose Leslie from Game Of Thrones.
After that, Diesel says he's the next Kojak for Universal. Diesel has been attached to Kojak for years, reportedly seeking Ang Lee for the director's chair. While that probably won't happen, Universal is probably happy enough with all the Fast And The Furious money he's earned them to find a solid director of choice. Kojak was on television from 1973 to 1978, featuring the immortal Telly Savalas as Theo Kojak, an unstoppable New York City detective. Vin Diesel in a cop movie? Sounds worthwhile. Who loves ya, baby?
And then, Diesel claims he is off to the Philippines to film the next xXx. This is a surprise for a number of reasons. For one, Diesel rejected what would become xXx: State Of The Union, and that dismissal so stung producers that they commissioned a short film for a xXx DVD re-release called The Final Chapter: The Death Of Xander Cage. Hilariously, Cage never speaks, and he's played by Diesel's stunt double, who blows up pretty ridiculously. It must be seen to be believed. Thank you, internet, for bringing us something so gross, so terrible, so sad that it breaks your heart to imagine Diesel ever watching it.
And if that's not enough Diesel for you (when is he going to find the time for Dom Toretto??), he's still trying to make his epic historical biopic of Hannibal the Conqueror. Yep, it will still be a trilogy.
Never stop trying, Vin Diesel. Never stop being you.
Your Daily Blend of Entertainment News
Thank you for signing up to CinemaBlend. You will receive a verification email shortly.
There was a problem. Please refresh the page and try again.