Concept Art And Behind-The-Scenes Images From Dorothy Of Oz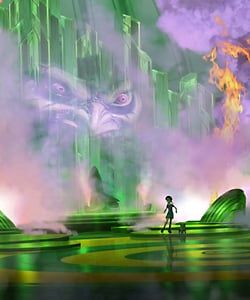 There's kind of a lot of Wizard of Oz spin-offs being produced right now, including the prequel Oz: Great and Powerful from Sam Raimi and Robert Downey Jr. and a live-action adaptation from the Polish brother. Likely to be first out of the gate, though, is Dorothy of Oz, an animated sequel starring Lea Michele, Kelsey Grammer, Dan Aykroyd, and Martin Short, on it's way to us in 2012.
New concept art and behind-the-scenes images from Dorothy of Oz have sprung up online and much like the concept art that we saw for Tim Burton's Alice in Wonderland, the images are rich with color and very pleasing to look at. Not to mention satisfying that the artists didn't take too many liberties with one of the most recognizable cities in film history. THR has released 12 pictures to satisfy the masses.
Aside from the concept art, the images aren't super exciting. We've seen what the characters look like already as art for them has been live of the film's website for quite some time, and the shots of actor's are just brief images of them in front of the microphone smiling and thinking, "I'm working, gtfo." Nonetheless, the star-studded cast is exciting to say the least especially for those of you who like musicals since the immensely talented Lea Michele of Glee fame will be playing Dorothy.
Scope out a few of the images below and see the rest over at THR.
Image 1 of 4
Image 2 of 4
Image 3 of 4
Image 4 of 4
Your Daily Blend of Entertainment News
Thank you for signing up to CinemaBlend. You will receive a verification email shortly.
There was a problem. Please refresh the page and try again.