The Conjuring's Midnight Box Office Means It's Already A Hit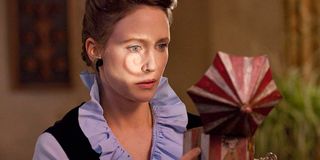 The Conjuring made its theatrical debut just over 14 hours ago, and already it's being called a hit for New Line and Warner Bros. Variety reports midnight screenings of the latest horror-thriller from James Wan (Saw, Insidious) has already earned an astounding $3.3 million between midnight screenings and pre-sale tickets. Better yet, early predictions that the film would make around $25 million are being revised. Given the latest tracking numbers, The Conjuring is expected to make upwards of $36 million, just as the recent Universal horror hit The Purge did in its opening weekend.
These estimates are all the more impressive when you consider how crowded this opening weekend is. Aside from The Conjuring, today sees the release of Summit Entertainment's Bruce Willis-fronted action-comedy Red 2, DreamWorks latest animated adventure Turbo, and Universal's big budget buddy cop tale R.I.P.D.. However, while most of its competition are getting scathing to lukewarm reviews from critics, The Conjuring has been building its buzz with nearly resounding critical praise. Personally, I found it not just sensationally scary but also surprisingly engaging on an emotional level. (You can read my full review HERE.)
Between the promising tracking numbers and the warm reception from critics, it wasn't too surprising when New Line and Warner Bros. announced plans for a sequel ahead of the film's debut. While for many horror movies a franchise means resuscitating some slasher or paranormal beast to the point of total absurdity, The Conjuring has a solid core to build from. Based on the case files of renowned ghost hunters Ed and Lorraine Warren, the film focuses on just one of their battles against the forces of the wicked dead. Besides taking on the case of a family of seven plagues by malicious poltergeists, they also investigated the notorious Amityville Horror house, which astute viewers of the movie might note is teased in The Conjuring's resolution. Other possibilities for a sequel include the tale of a supposed werewolf demon and a murderous man the Warrens believe was inspired to kill by a bloodthirsty spirit. Or you know, Wan could make something up. But with the Warrens as a resource, that seems unlikely.
As for The Conjuring's competition, the weekend is looking grim, especially for Ryan Reynolds who has a starring role in both R.I.P.D and Turbo. (Notably, Mary-Louise Parker appears in both R.I.P.D and Red 2, but as a supporting player will less likely be blamed if either film fails.) While DreamWorks Animation's last movie (The Croods) earned $43 million it's opening weekend, Turbo is predicted to take in just $24 million, which would make it the lowest debut for any DWA release. And with a bloated budget of $130 million plus an estimated opening to be around $17 million, R.I.P.D could snatch the dubious title of summer's biggest bomb away from The Lone Ranger.
This poll is no longer available.
Staff writer at CinemaBlend.
Your Daily Blend of Entertainment News
Thank you for signing up to CinemaBlend. You will receive a verification email shortly.
There was a problem. Please refresh the page and try again.