The Conjuring Reveals Spooky Trailer and Scene, And James Wan Talks Horror As Therapy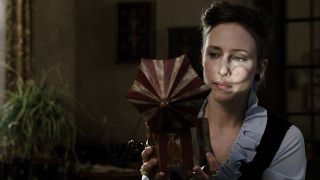 (Image credit: Warner Bros. Pictures)
With his gritty and gory Saw, emerging director James Wan changed the tide of horror, and now as follow-up to his practical effects-favoring, critically praised Insidious he's got The Conjuring, a supernatural thriller that stars Vera Farmiga, Patrick Wilson, Lili Taylor and Ron Livingston. At the film's New York Comic Con panel the latter three joined Wan and The Nerdist's Chris Hardwick, who served as moderator, to give the eager crowd a taste of what the horror auteur has in store for his next feature.
Wilson and Farmiga star as the "original modern-day ghost hunters Ed and Lorraine Warren," Wan told the crowd. The film is based on a true story wherein the Warrens, who had a long history of intervening in cases of haunted houses including the infamous Amityville house, were called in to investigate the home of a family of seven (Taylor and Livingston play mother and father) "that are besieged by evil spirits." One in particular, Wan warned, is a "really bad" witch.
Much to the excitement of the crowd, Wan debuted the trailer. The setting is the 1970s; "Hurdy Gurdy Man" plays, instantly giving the images and unsettling atmosphere. Amid jump scares and hair-raising musical stings, we're shown an unseen force tugging a girl from her bed, pictures torn from walls, and other ghostly mayhem. Farmiga's character is introduced as a woman who is not only in touch with the dead, but whose exposure to them—it is implied—kills her a little each time. There are a couple of shots of our malevolent witch, including one lunge that makes the audience gasp in unison. (Okay, this reporter squealed.)
But that's not all. Wan also unveiled a (seemingly abridged) sequence from the film. And while the trailer was well received, the tension building in this clip drove the audience wild. The scene began in the day with a smiling Taylor playing hide and seek with a giggling blond daughter. This family has strange rules to their game though. For one the seeker must put on a blindfold as they search, and two the hidden must clap three times on request to give the searcher clues. So, with a broad, playful smile Taylor puts on her blindfold as the girl runs out of the room to hide. Then comes a clap. Taylor follows it into another bedroom, where—unseen by her—a pair of closet doors slowly open on their own. Then, the second clap comes from inside the closet.
Taylor walks towards it with her hands out – but right before she blindly reaches in, her daughter tears into the room shouting triumphantly that her mom was way off! Confused, Taylor moves the clothes aside in the closet, but finds nothing. Cut to later that night. Taylor looks in on her sleeping daughters and is immediately frightened—as are we—by a horrible sound of unseen destruction. She looks to the stairwell and watches as the photos (seen in the trailer) hung on the wall are torn away by something invisible. She stumbles downstairs to investigate, and we in the audience groaned in anxious anticipation.
She switches on lights and shouts out to the unseen intruder. Then someone claps. More cries from the audience. She follows the sound, and the basement door slowly opens behind her, and as she approaches it members of our audience yelped. Into the basement, she turns on a light and looks down the stairs but sees nothing. When she turns to leave—BAM! The door slams in her face and the bare bulb above her shatters. There are terrible noises in the dark, then she manages to strike a single match. She's on her knees, terrified, surrounded by a soft but shaky ring of light coming from the match. The audience is on tenterhooks when a pair of ghostly pale hands appear right next to Taylor's face and clap! Cut to black.
As the lights come up, the cast and Wan look pleased as Hardwick chides Taylor, "Lili Taylor why would you go into that cellar!...That was fucking awesome!"
When time for questions came, two among those at the mic revealed connections to the house in question. One woman said she lived next door, and another claimed to be part of the paranormal investigation group who enlisted in the Warren's help. She asked to speak to them after, to tell them things they may not know. Hardwick joked that the movie has already been made, and suggested Wan just give her his phone number now.
The cast discussed how Wan's focus on practical effects aided their performances in that it built atmosphere on set. However, this frightening tone was lost on the child actors who we're told played games while not filming, and regarded the ghastly makeup and costumes as Halloween shenanigans. "They were kind of on a great six week sleepover," Livingston laughed. The atmosphere of the IGN Theater was jubilant, thanks in part to Hardwick's hosting, but also thanks to the genuine enthusiasm Wan and his cast clearly have for the film.
Wilson spoke about his research for the role, being very respectful of the fact that he is playing a man who deeply believes in evil spirits. He and Farmiga visited the Warrens' home, where they have a bit of a haunted museum, or a room where they house artifacts from some of their ghastly cases including the Annabelle doll which supposedly kills anyone who dares touch it. While the film is "a classic ghost story," it's also a biopic, and so Wan put a great amount of care into properly capturing the period, and attempting a realistic feel to his supernatural tale. "I'm trying to honor their point of view," he explained.
"I put the things that scare me up on screen, and that's kind of like my therapy," Wan says of his attraction to horror films, before admitting he thinks he has one more ghost story in him before he may attempt to tackle new genres. When one fan seemed down on Wilson's continued involvement on Wan's projects, Wan defended Wilson, saying that if he ever did a Batman movie, Wilson would be his Batman. So when Wan insisted he'd love to do sci-fi, action or a comic book movie, Wilson leaned forward to his mic and interjected "With me," which garnered cheers from the crowd.
So, from the looks of its trailer and freaky first clip, The Conjuring seems to be seriously scary. And New Line Cinemas appears to have big expectations for the horror biopic as they recently moved its release date from January (which is usually a red flag) to a prominent summer spot. So, The Conjuring is coming our way July 19th, 2013.
Your Daily Blend of Entertainment News
Staff writer at CinemaBlend.