Contagion Gets Plot Details To Go With Its Gigantic Cast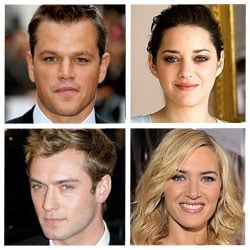 Nothing is more frustrating than hearing minimal details for a movie from Steven Soderbergh that packs a top notch cast including Matt Damon, Kate Winslet, Lawrence Fishburne, Marion Cotillard, Jude Law and Gwyneth Paltrow. Okay, we knew Contagion was some sort of virus film possibly along the lines of Outbreak, but that's just not enough. Now the details have arrivedm and you better prepare to channel all of that frustration towards having to wait so damn long to see this film.
Scott Z. Burns' script landed in the hands of The Playlist's Oli Lyttelton who explains, "If you took the breadth and scope of Traffic or Syriana, tidied up the writing, and found a subject matter that terrified you relentlessly for two hours, you'd have something close to Contagion." Kicking off the story is Paltrow's character, who's coming home from a business trip in Hong Kong along with a local casino worker and a Ukranian supermodel. Soon after, all three fall seriously ill. Damon plays Paltrow's husband and the man who must care for her and eventually his stepson as well. From there we meet the rest of the cast: Fishburne as the head of the CDC, Winslet as his co-worker, Cotillard as a European doctor working for the World Health Organization and Law as a blogger obsessed with conspiracy theories.
Lyttelton makes a point that Contagion is no sci-fi freak accident or centered on a completely implausible scenario. It's sensible and that's what makes it so downright terrifying. I've done my best to sum up the original article but if you're interested in the project–-and I think you should be--it's worth a read. The script still has one more round of editing to go through before shooting begins, but that will likely only result in minimal changes.
Your Daily Blend of Entertainment News
Staff Writer for CinemaBlend.