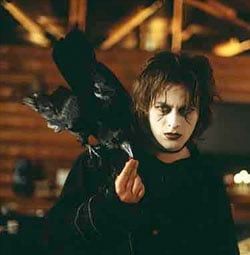 Alex Proyas defined an entire new world for emo kids in 1994 with his dark and brooding classic The Crow, which went on to gross $94 million in worldwide box office after costing a mere $15. Obviously that sort of profit spawned several franchise-slaughtering sequels, all but one of which went straight to the bottom shelf at the rental store and were forgotten about just as fast as the failed single season TV-series.
Since it's been nearly five years since Edward Furlong, Tara Reid and Tito Ortiz became the final three nails in the franchise's coffin, Stephen Norrington at Relativity Media feels like now's as good a time as any for a good ol' fashioned Hollywood style reboot. According to Comics2Film, Norrington is saying that his new script is doing well as it makes the studio rounds and will be, "realistic, hard-edged and mysterious, almost documentary-style."
You know, I was thinking the other day, "There just aren't enough broody pre-teens trying to emulate a dead vigilante these days," so this is just the right time to give the series a Dark Knight makeover and see just where Stephen Norrington takes it. There's great stories to be had in the mythology, and the tone of The Crow would fit in well among the darker comic book movies that have been stirring around, so really this isn't a reboot that bothers me all that much, despite my skepti-sarcasm.
I'm totally willing to give this flick a chance since I loved the original, but since the last time anyone handed Norrington the captain's hat he gave us League of Extraordinary Gentlemen, I'll keep my hopes for The Crow low for now.
Your Daily Blend of Entertainment News