DC's Justice League Movie May Add Martian Manhunter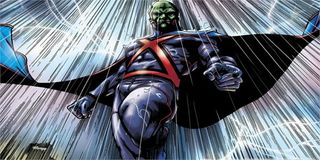 Justice League rumors. They'll never stop. Yesterday, the news about possible upcoming DC films made it seem like we had our Justice League roster, based on the cast list for Batman V. Superman: Dawn Of Justice. And even though it was pretty crowded, it may have been missing a few names of note.
Jeff Sneider of The Wrap claims to have an "agency grid" for Justice League that reveals three more major roles.
First of all, a couple of questions. One, Justice League allegedly doesn't come out until 2017. Would there really be an agency grid for it so soon? We're not skeptical, we're just wondering. Or is this an agency grid for Dawn of Justice? And two, is it possible that Martian Manhunter could be joining Superman, Batman, Wonder Woman, Cyborg, and the rumored Flash, Green Lantern and Aquaman? Makes sense: Martian Manhunter is one of the original Justice Leaguers, and was even set to show up in 2008's aborted Justice League: Mortal, played by Hugh Keays-Byrne. He also showed up in THIS.
Egah!
Clearly WB's got an interest in the character. They also have an interest in Darkseid, who has long been rumored to be the baddie for Justice League, which totally makes sense. Maxwell Lord is a more interesting inclusion. He too was a part of that original Justice League: Mortal film, to be played by Jay Baruchel. Lord is a financier of the League, though it is revealed that he has villainous aims for them. It's a decent villain role, though there's a massive divide between the non-superpowered Lord and the gargantuan villainy of Darkseid.
Whatever the case, that's a big crew for the onscreen DC universe, as well as a big threat. Rumors will circulate over the next couple of years, most of them predictable, given the lack of actually marketable DC characters. Martian Manhunter's presence is one of the most likely ones. And it'll be a couple of years before we actually find out, if that 2017 release date has any truth behind it.
Your Daily Blend of Entertainment News