Wonder Woman, Green Lantern, Flash Getting Movies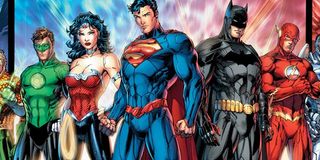 So Marvel's sort of "winning" the whole superhero game, with four more movies on the schedule coming up, and a fifth in pre-production (Doctor Strange). Meanwhile, the DC properties languish as Warner Bros. figures out what to do with their franchises. But if rumors are correct, this Comic Con, DC and the WB are stepping out in a big way with a massive superhero roster, and a full schedule for the next few years that totally trumps Marvel's plans.
The first scoop to come from the rejiggered Nikki Finke gossip machine claims DC has added a spectacular SEVEN films to the docket, all over a three year span following 2016's Batman V. Superman: Dawn Of Justice. Clearly this superhero bubble is not about to burst anytime soon, as the WB plots movies featuring the likes of Shazam! and Wonder Woman.
While Batman V. Superman: Dawn Of Justice currently shoots for that May 6th release date, Finke's scoop claims that it isn't the only 2016 summer release from the studio. In July '16, we'll also see Shazam!, featuring the character formerly known as Captain Marvel (DC's New 52 comic line has retconned that name out of existence to avoid intercompany confusion). Could this be the property Dwayne Johnson has been linked to? He's been flirting with a Captain Marvel movie for years now.
Also in 2016, the holiday season will see Joseph Gordon-Levitt's Sandman take flight, although that's not expected to connect with the other films. And Finke reports that Dawn Of Justice is going to feature a boatload of cameos, in order to set up 2017's Justice League. While that arrives in May, July will reportedly finally see Wonder Woman receive her own movie, with Gal Gadot in the role as the ass-kicking Amazonian.
The holiday seasons of 2017 will again feature the year's third DC offering, though this is a strange one. They already tried Green Lantern, so this time they're bringing him back with a twist. Dawn Of Justice will allegedly introduce both the Flash and a new Green Lantern, and they will spinoff into their own team-up movie. Fingers crossed for The Flash And His Buddy, Green Lantern. Finally, hopefully Henry Cavill has no vacation plans – May 2018 will see an official Man Of Steel sequel, giving Cavill three Superman appearances within the span of three years. Sounds crazy, but if you'll recall Chris Hemsworth showed up in The Avengers in the year between both Thor films.
Here's a list of the actual films in question...
May 2016 – Batman v Superman
July 2016 – Shazam
Xmas 2016 – Sandman
May 2017 – Justice League
July 2017 – Wonder Woman
Xmas 2017 – Flash and Green Lantern
May 2018 – Man Of Steel 2
Finke claims that the delays regarding Dawn Of Justice involved negotiating with major actors to pop up in the film in cameos or small appearances to set up Justice League. Apparently, the hero roll call for Dawn of Justice now features Superman, Batman, Wonder Woman, Cyborg, the Flash and possibly Green Lantern, with Aquaman likely showing up proper in Justice League. San Diego Comic Con is next month, so we'll see if there's any truth to this attention-getting rumor.
Your Daily Blend of Entertainment News