Dan Radcliffe Is Harry Potter Forever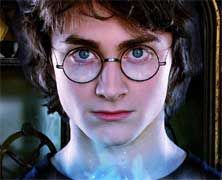 Whatever doubt there might have been over whether or not Daniel Radcliffe would be the guy playing Harry Potter thoughout all the still to come franchise movies has evaporated. For the past few years there has been a lot of will they or won't they speculation regarding the entire cast, but it looks like Radliffe at least, is now a lock.
The news comes from DanRadcliffe.co.uk where they say they've been told by Radcliffe's publicist that he's officially signed on the dotted line to appear in the final two Harry Potter films. In September he starts shooting Harry Potter and the Half Blood Prince. Then he'll be back for the final movie, Harry Potter and the Deathly Hallows. Daniel Radcliffe, when not appearing nude with a horse on the London stage, will be forever known as the one and only Harry Potter.
With Radcliffe contractually obligated to his spectacles, maybe now Rupert Grint (Ron Weasely) and Emma Watson (Hermione Granger) will fall in line. There have been similar rumblings from their camps about their desire to skip out on the last couple of Potter movies. But the franchise needs them. There's nothing worse than a mid-series replacement actor. Nobody wants that. Come on kids, forget those useless educations. Who needs to know how to read when you've got $50 million in the bank? Let's finish the marathon.
Your Daily Blend of Entertainment News