Daniel Craig Drops Out Of 'The Whole Truth' One Week Before Production Begins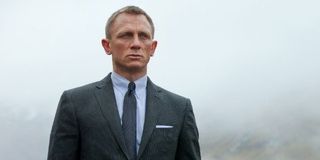 The producers of the upcoming independent drama The Whole Truth were likely counting their lucky stars when they landed Daniel Craig to front the feature, but now the production team is scrambling to find a new leading man, as the James Bond star has abruptly dropped the project just days before it was set to go into production.
THR reports Craig bowed out of The Whole Truth on Sunday, April 6th. Production on the film was slated to start in Boston on April 14th, but with Craig's last-minute exit, the filmmakers must rush to find a replacement. Still, it's not looking like they'd be able to by Monday. One insider confessed to THR that the start date for The Whole Truth has already been bumped back three weeks to help accommodate this search.
The project was firming up the casting of smaller roles, and is in talks with Danny Huston for one of those. But this shift in scheduling has put a pause on negotiations until The Whole Truth's production companies, Atlas Entertainment and Likely Story, are able to nail down a new male lead. Aside from a probable spike in its budget, the delay in the schedule could cause a domino effect in casting concerns. But for now Craig's would-be co-stars, Renee Zellweger and Gabriel Basso ( The Kings of Summer) are still signed on to the film.
The plotline for The Whole Truth has been kept largely under wraps, but Deadline reports Craig was set to play an attorney tasked with defending a teen boy (Basso) who allegedly murdered his wealthy father. The Boston Globe, which broke the story, noted that Craig had previously been spotted around the Suffolk County Superior Court, researching for the role, and he was seen staying at Boston's Four Seasons hotel as recently as Sunday. No reason for why Craig left the project has been released.
We first got wind of this indie drama last month when Zellweger's casting was announced. While it was her still-reputable name brought the project into the spotlight, The Whole Truth boasts some noteworthy talent behind the scenes as well. Its screenplay was penned by Nicholas Kazan, the Academy Award-nominated screenplay behind Reversal of Fortune as well as Danny DeVito's spirited adaptation of Roald Dahl's Matilda.
Helming the pic is writer-director Courtney Hunt, who also earned an Oscar nod for her screenwriting skills. Hers came courtesy of her original drama Frozen River, which helped get Melissa Leo's career off the ground. If The Whole Truth recovers from this casting catastrophe, it will be Hunt's second feature. Aside from this seemingly bad news, it sounds like it could prove a powerful follow-up.
We'll give you more information on this story as it develops.
Your Daily Blend of Entertainment News
Staff writer at CinemaBlend.