Daniel Radcliffe Will Star In An FBI Drama, Get The Details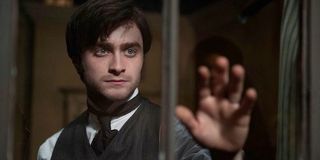 After playing teen wizard Harry Potter for roughly a decade, Daniel Radcliffe is doing what he can to change public perception attached to that role, taking a wide array of different roles. And what's as far away from an adolescent magic practitioner as you can get? Why, an undercover FBI agent, that's what, which is exactly who Radcliffe is going to play in the upcoming thriller Imperium.
Deadline reports that Radcliffe is going to take the lead role in Imperium, which sounds like it's going to be one hell of an intense ride, and it's based on real events, which only ups the ante even further.
The former cinematic wizard is set to star in the story of a young FBI agent who is recruited to go deep undercover. He infiltrates a group of white supremacist terrorists who want to make a dirty bomb. You can imagine various ways that this will translate to some crazy on-screen tension. The movie is based on the experiences of Michael German, a deep cover agent who spent years working to take down neo-Nazi militias throughout the United States. German also co-wrote the script with Daniel Ragussis, who is slated to make his feature directorial debut with Imperium.
Starring in horror movies like The Woman in Black and Horns, period dramas like the upcoming Brooklyn Bridge, and even a hilarious cameo in Judd Apatow's Trainwreck, Radcliffe is adding a great deal of variety to his post-Potter resume. And from what we can tell, Imperium is going to bring yet another new wrinkle to his career. Sure, there is definitely action and tension in the Harry Potter movies, but this sounds like an entirely different kind of animal.
It also adds yet another project to Daniel Radcliffe's increasingly busy shooting schedule. He's filming the indie flick Swiss Army Man; will appear with James McAvoy in Victor Frankenstein, where he plays Igor, and which tells the Frankenstein myth from his perspective; he'll play Lee Atwater in the political comedy Young Americans; join the magic heist Now You See Me: The Second Act; and play Rockstar Games president Sam Houser in Game Changer, BBC's TV movie about the creation and legal troubles of the Grand Theft Auto games. At some point he'll probably have to find time to do things like sleep and eat, too.
Right now there's no word on when Imperium will shoot, but with writers, producers, a director, and now a star in place, you have to think that it will try to get rolling before too long. At least before Daniel Radcliffe realizes that he stretched himself too thin and has to trim some projects from his slate.
Your Daily Blend of Entertainment News