Daniel Radcliffe's Woman In Black Sets UK Box Office Record For Horror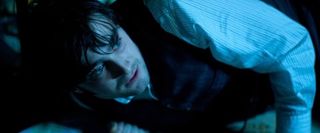 Earning north of $23 million in the States isn't really cause for celebration. I mean, Act of Valor opened to $24.4M last weekend, which was enough to top the box office, but the industry wasn't dancing a jig. Yet in the UK, earning more than $23M means that Daniel Radcliffe's The Woman In Black has become the highest-grossing British horror film in the past 20 years, which is when the record started being kept.
Director James Watkins and the makers of Black tell THR that the Hammer-produced horror has surpassed previous record holders The Others Nicole Kidman ($18.9M), Francis Ford Coppola's Bram Stoker's Dracula ($18.2M) and the Tom Cruise-led Interview with a Vampire, which earned $17 million in the UK. All of those might have been backed by Hollywood, but they were shot in the UK with predominantly British talent.
The trade quotes Hammer CEO and president Simon Oakes as saying that his performance is "an important achievement that affirms the re-birth of Hammer." But we'll go one step further to say that it shows an audience will be willing to come out and support Radcliffe in a non-Harry Potter project. Many probably assumed that Radcliffe, Emma Watson and Rupert Grint would have a professional career outside of Hogwarts, but financial benchmarks like this only help confirm the fact that these actors have drawing power, which is crucial.
Watkins' gothic horror, meanwhile, has coughed up an additional $50.4M in the U.S., pushing its worldwide cume to $75.9M overall. Not dominant, but still relatively impressive for a horror film released in the dead zone of early February. Radcliffe can next be seen playing Allen Ginsberg in John Krokidas' Kill Your Darlings, which is in pre-production.
Movie junkie. Infatuated with comic-book films. ReelBlend cohost. Resident dad. Extroverted introvert. Wants to see the Snyder Cut. Managing Director at CinemaBlend.