David Fincher Demands Christian Bale To Be His Steve Jobs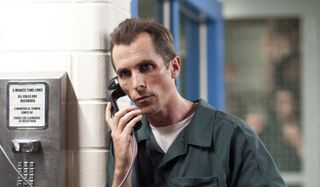 A few weeks back, word arose that David Fincher was circling Sony's Steve Jobs biopic. Now it seems a script penned by Aaron Sorkin isn't enough of an incentive to sign on. Fincher is demanding Christian Bale for the lead role, or else he's walking.
The Wrap reports negotiations for Fincher's involvement are still ongoing, but when he met with Sony chairman Amy Pascal, the heralded helmer demanded Bale be cast as Steve Jobs. He will accept no substitutes according to their source. However, Bale has not yet been approached about the role. At this time, neither Bale nor Sony has commented on the matter.
Based on Walter Isaacson's bestselling authorized biography Steve Jobs, this film will look to reveal the complicated character of the visionary who made Apple a household name and iPods (and their flashier descendants) must-have status symbols. Frustratingly, Sorkin's Steve Jobs biopic is currently untitled. But we're expecting great things from the script, considering The West Wing creator's gift for smart and fast-paced dialogue.
If Fincher signs on, this would be he and Sorkin's first collaboration since their Oscar-winning joint effort The Social Network. That too was based on a non-fiction book, in that instance Ben Mezrick's The Accidental Billionaires. Being about Facebook founder Mark Zuckerberg, The Social Network also focused on a polarizing figure who changed the tech landscape of the world but earned a marred reputation along the way. As such, Sorkin and Fincher seem a perfect pairing for this could-be follow-up, but Bale's involvement is far from guaranteed though he has no firm commitments to his next project just yet.
Fincher hasn't worked with Bale before, so he has no loyalty to pull from there. Reportedly, the acclaimed Welsh actor who recently earned his second Academy Award nod for American Hustle, is taking some time off of acting following the demanding shoot of Ridley Scott's biblical epic Exodus. Playing Moses there, Bale could be thrust into the award season spotlight once more next winter. But will he make time for this Jobs pic? Production on the film is expected to begin late next year or early in 2015, so there's plenty of time for deals to take shape or fold. Better still, there's time for this biopic to distance itself from the dismal Jobs.
Starring Ashton Kutcher as its titular tech icon, Jobs was slammed by critics and made just $35 million worldwide. Basically it is in no way a path Sony's hoping to follow. Of course, that film--directed by Joshua Michael Stern and written by Matt Whiteley--didn't have the behind-the-scenes cachet this project already boasts. And if Bale can be landed, the unnamed Jobs biopic will handedly beat out Jobs on the star power front.
Bale's involvement could well come down to Pascal. While she and Fincher reportedly clashed over The Girl With the Dragon Tattoo, she's said to respect him as a filmmaker. And she's got the Bale connection, having worked and promoting the hell out of American Hustle. Will she be able to make the sweetheart deal that will team up the edgy director with the brooding leading man? We'll update you as this story develops.
Staff writer at CinemaBlend.
Your Daily Blend of Entertainment News
Thank you for signing up to CinemaBlend. You will receive a verification email shortly.
There was a problem. Please refresh the page and try again.