David Yates Commits To Tarzan Remake, Eyes Henry Cavill And More For Lead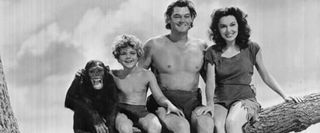 There's been talk for a while now of the return of Tarzan, the Edgar Rice Burroughs character who has been depicted around 89 times on screen already. Twilight's Kellan Lutz is at work on his own 3D motion-capture version, and Warner Bros. has been developing their take for a while now, at one point attaching Hustle & Flow and Footloose director Craig Brewer, who spoke frequently in interviews about his passion for the project.
But word broke not long ago that Warner Bros. wanted to hand the project off to one of their most loyal blockbuster-makers instead, and now the news seems to be official. Vulture reports that David Yates, who made the final four Harry Potter films for the studio, has committed to Tarzan as his next project, and is already meeting with several actors who might play the title character. Actors you might eventually see swinging through the trees include future Superman Henry Cavill, Pacific Rim star Charlie Hunnam, True Blood's Alexander Skarsgard, or even Bane himself, Tom Hardy-- though Vulture notes that it's unclear how interested he'd be in the part.
Given that the last major on-screen take on Tarzan was Disney's 1999 animated version, it's hard to even know how they're going to update Tarzan for modern audiences. Even if they set the movie far in the past, in some exotic African jungle or whatever, the idea of a man raised by apes and living in the jungle is a little hard to swallow these days. Casting a strong actor like Hardy could definitely go a long way to selling it, and Warner Bros. seems right to trust Yates, who jumped in and gave the end of the Harry Potter series a clear identity without mucking around too much with J.K. Rowling's original stories. But given the recent flop of John Carter, we've seen how Burroughs's iconic character don't necessarily translate into modern blockbusters. Can Tarzan gather up the goods to overcome that?
Staff Writer at CinemaBlend
Your Daily Blend of Entertainment News
Thank you for signing up to CinemaBlend. You will receive a verification email shortly.
There was a problem. Please refresh the page and try again.