Dawn Of The Planet Of The Apes Casts Zero Dark Thirty's Jason Clarke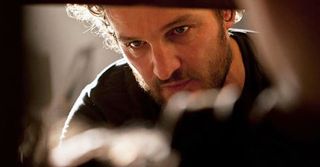 He hasn't earned the same kind of Oscar buzz as his co-star Jessica Chastain, but Zero Dark Thirty's Jason Clarke makes a huge impression in the film in what's probably its most controversial scene, playing the amiable but terrifying CIA interrogator torturing a captive prisoner. Australian Clarke has been making his way up in Hollywood in the past few years, popping up opposite Chastain in last summer's Lawless and in Michael Mann's Public Enemies, and now he seems to have lined up the role that could make him, finally, a star.
According to THR, Clarke has signed on as the human star of Dawn of the Planet of the Apes, the sequel to 2011's Rise of the Planet of the Apes that THR reveals will be set 15 years after the first film. Though Andy Serkis will indeed be returning to play the hyper-intelligent ape Caesar, leader of the ape rebellion that began at the end of the last film, another strand of the story will focus on a group of human scientists struggling to survive in San Francisco. Clarke's role hasn't been revealed, but it's not hard to see him as one of those scientists.
Dawn is now poised to be a breakthrough for two people, as Cloverfield and Let Me In director Matt Reeves steps behind the camera, trying his hand at a huge studio blockbuster for the first time. And with the 15 years later setting, this seems to be pretty firmly prove that James Franco won't be part of the sequel, as he suggested back in December. Rise of the Planet of the Apes was a surprisingly intelligent and well-crafted blockbuster, and Reeves seems perfectly skilled to carry that forward. And with scene-stealer Clarke in the lead, Serkis might actually have to watch out-- we might leave this next one not talking about Caesar at all, but that human who stole the Apes movie from the apes.
Staff Writer at CinemaBlend