Will Deadpool 2 Use Negasonic Teenage Warhead? Here's What The Actress Said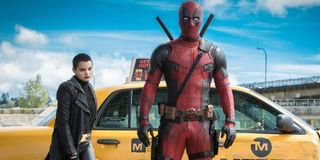 The mammoth, record-breaking box office intake of Deadpool over the weekend means a sequel is coming. But who can we expect to return in Deadpool 2? Well, obviously, Ryan Reynolds. But what about Brianna Hildebrand, who so delightfully portrayed Negasonic Teenage Warhead in Deadpool? Unsurprisingly, Hildebrand has now admitted that she'd jump at the opportunity to play the character again.
However, despite her sterling work alongside Ryan Reynolds' Deadpool and Stefan Kapicic's Colossus in Deadpool, Brianna Hildebrand has also confessed that no such discussions about her returning have actually taken place. Brianna Hildebrand admitted as much to Yahoo, stating that she's not exactly sure where Negasonic Teenage Warhead fits into the X-Men universe.
Because of Deadpool's budget restrictions, producers Simon Kinberg, Ryan Reynolds, and Lauren Shuler Donner, as well as writers Rhett Reese and Paul Wernick and director Tim Miller, had slim picking when it came to adding X-Men characters to its film.
But, in a way, that actually worked wonders for the final film. Rather than simply wedging the most popular characters from 20th Century Fox's original X-Men stories for Deadpool with little care for how they actually fit into the film, the above creative team thought long and hard about who would get the best out of Ryan Reynolds' titular character. And that's exactly what Brianna Hilldebrand's Negasonic Teenage Warhead and Stefan Kapicic's Colossus did, as their respective traits of being a moody, often quiet teen and goody-two-shoes metallic behemoth allowed Ryan Reynolds to constant mock and joke with them.
Following Deadpool's gross of $282.1 million across the world over its opening weekend, it will be interesting to see exactly how 20th Century Fox responds to the success. Quick warning: there are SPOILERS ahead, so don't read on if you've not seen Deadpool yet.
It's already been confirmed that Cable will be featured, with Deadpool revealing such information in the post-credits scene, but will Hugh Jackman's Wolverine feature? What about the new younger iterations of Cyclops, Jean Grey, Storm, Nightcrawler, Jubilee, or Archangel from X-Men: Apocalypse? Are they fair game?
Sure, one of them would be nice. But personally I'd love to see Evan Peters' Quicksilver given more room to speed around on screen. Whoever is finally picked, you can expect all of them to be linked to Deadpool 2 over the next few months, as the sequel is developed by the returning producers, writers and director.
Your Daily Blend of Entertainment News
Thank you for signing up to CinemaBlend. You will receive a verification email shortly.
There was a problem. Please refresh the page and try again.