Deadpool's Blu-ray Announcement Comes With A Hilarious LaserDisc Joke, Because Deadpool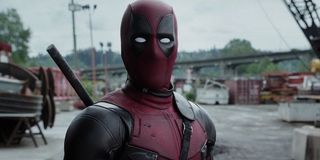 Deadpool provided the comic book genre with a jolt in the arm when it was released back in February. One of the keys to its success was the promotional campaign that placed its leading man Ryan Reynolds front and center, and saw the actor embrace the unfiltered personality that has made the character so beloved. You won't be surprised to learn that 20th Century Fox have continued this approach for the release of Deadpool on Blu-ray, too, as the character decides to poke fun at two home video formats that are sadly no longer with us.
While Deadpool's barb about VHS and LaserDisc is particularly delicious, the main bit of information from this tweet is that Deadpool is coming out in just over a month's time. In fact, you'll be able to own Deadpool on Blu-ray on May 10.
And I'm going to bet that quite a few of you will be snapping up Deadpool when it arrives on shelves, too. That's because it was rather popular when it was released all the way back in February. In fact, it went on to become the highest grossing R-rated film in history, and it has so far taken in over $745 million at the box office.
As well as making a monumental amount of money, audiences and critics alike absolutely adored the film. It currently has a score of 83% on Rotten Tomatoes, and it was able to reach its huge gross because fans repeatedly went back to watch and fawn over Deadpool's irreverent tone and humor again and again.
Not even the release of Batman V Superman: Dawn Of Justice -- which is likely to eclipse Deadpool's box office total, even though it has been met with a scathing critical response -- failed to steal the limelight from the Marvel Comics legend. But what's even more exciting for Deadpool fans is that this is just the beginning. A sequel has already been greenlit by Fox, and they will no doubt be looking at different ways to fold Deadpool into their X-Men universe, as well as considering further sequels, too. Until that point though, you'll just have to do with Deadpool on Blu-ray.
Your Daily Blend of Entertainment News