Death Race 2's Frankenstein Unmasked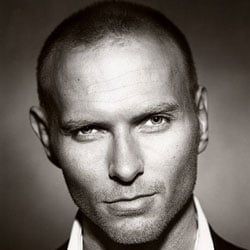 There will be a new man donning the Frankenstein mask in the straight-to-DVD Death Race sequel, Luke Goss. The Frankenstein mask looks pretty uncomfortable and potentially suffocating, but at least he won't have to sit through the hours of hair and make-up necessary to turn him into Hellboy II: The Golden Army's Prince Nuada.
According to Moviehole, Goss will play Carl 'Luke' Lucas, the predecessor of Jason Statham's Frankenstein. He's a notorious mobster's #1 who winds up in Terminal Island Prison for killing a cop while robbing a bank. I thought Case said Jensen is better looking than the old Frankenstein? I'm team Goss.
Speaking of Case, will Frankenstein's right-hand woman be returning? Yes, but she might not be played by Natalie Martinez. Back in November Spoiler TV posted information on the Frankenstein Lives casting call, which included the parts of Elizabeth Jayne Case, Gunner and Lists. I don't see why Martinez, Jacob Vargas and Frederick Koehler wouldn't be called upon to reprise their roles, nor why they wouldn't want to. Hopefully director Roel Reine recognizes this sensibility and brings back Frankenstein's original teammates.
Frankenstein Lives is set to begin shooting in Easter Europe next month.
Your Daily Blend of Entertainment News
Staff Writer for CinemaBlend.