Denzel Washington To Be The Equalizer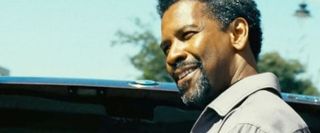 The past few years, Denzel Washington has settled into a groove of mid-range action thrillers where his husky voice and bursting bravado lend plenty of pop to the otherwise uninspired ventures. So it's little wonder Sony's chosen this dynamic leading man to front their next proposed franchise The Equalizer, inspired by the 1980s TV series.
Edward Woodward starred in the original as Robert "The Equalizer" McCall, a private investigator whose no-nonsense attitude and passion for justice made him the go-to for scores of people in trouble. Deadline reports that Richard Wenk, who co-wrote The Expendables 2 with Sylvester Stallone, has given The Equalizer a fresh new take that better encompasses Washington's niche for playing brooding loners who loathe injustice. Though the description of an outsider who throws himself in harm's way for the good of society makes The Equalizer sound like a western, the film will more likely follow in the less reserved genre conventions of bold action thrillers.
Sony is eager to get this wannabe franchise rolling, and so have selected an April 8th 2013 date for the start of production, and are in final negotiations to sign Washington for "his customary $20 million price." While top names can still pull down such a fee, it seems exorbitant when the entire budget of The Equalizer is projected to be around $50 million, which is $35 million less than his last thriller Safe House.
With only $30 million to play with elsewhere, Sony is pursuing buzzed about directors who have delivered plenty of punch on a leaner budget. Currently rumored are Pierre Morel (Taken, estimated budget of $25 million), Nicolas Winding Refn (Drive, estimated budget of $15 million), Gavin O'Connor (Warrior, estimated budget of $25 million) and Gareth Evans (The Raid: Redemption, estimated budget of $1.1 million). Even with a leaner budget, if Sony can snag any of the helmers on this wish list, The Equalizer will be in great hands.
Staff writer at CinemaBlend.
Your Daily Blend of Entertainment News
Thank you for signing up to CinemaBlend. You will receive a verification email shortly.
There was a problem. Please refresh the page and try again.