Dexter's Yvonne Strahovski Talks Sequels, Heart Surgery and I, Frankenstein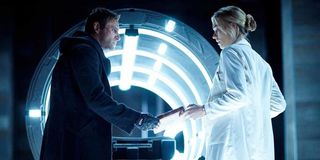 You probably recognize bubbly ingénue Yvonne Strahovski from eye-catching roles on the Emmy-winning action-comedy series Chuck, where she co-starred opposite Zachary Levi as CIA agent Sarah Walker, or from Showtime's Golden Globe-winning serial killer series Dexter, on which she played the twisted Hannah McKay. Before she broke into American television, this beautiful blonde got her start on TV in her homeland of Australia. And in a charming twist of fate, she returned there for her biggest movie role to date in I, Frankenstein, which opens in theaters this week.
Dreamed up by Underworld creator Kevin Grevioux, I, Frankenstein gives the iconic reanimated corpse a new life, bringing his story into the 21st century. Aaron Eckhart stars as Frankenstein's monster, who is left to discover how he fits into the human world after the death of his creator. Little did he expect to be drawn into a holy war waged between two clans of creatures as legendary as himself.
Co-starring with Eckhart, Yvonne Strahovski takes on the role of Dr. Terra Wade, an electro-physiologist who is following in the footsteps of Victor Frankenstein, trying to utilize electricity to resurrect dead flesh. It's a dark vocation, but one that Strahovski was eager to consider. Last week in a posh New York hotel, the TV star turned movie star spoke with me about the film, what she'd like to see in a sequel, and what the hell electrophysiology is.
While Yvonne character is sort of a modern-day Dr. Frankenstein, it was important for the actress to understand what would drive a person to essentially play god. She told us:
Aside from Strahovski's research into electrophysiology and Mary Shelley's seminal novel Frankenstein, she also had to build an onscreen rapport with a character who is at times more monster than man. Of course, as you can see from this still, he is one handsome abomination.
I, Frankenstein opens in theaters Friday, January 24th. Look for our review, 3D Or Not To 3D, and an interview with Eckhart later this week. In the meantime, check out its trailer.
And just for fun, see Yvonne Strahovski do a whole slate of impersonations, from Kesha and Katy Perry, to Lady Gaga and Justin Bieber in this College Humor video.
Staff writer at CinemaBlend.
Your Daily Blend of Entertainment News
Thank you for signing up to CinemaBlend. You will receive a verification email shortly.
There was a problem. Please refresh the page and try again.