Did Stephen Sommers Get Kicked Off G.I. Joe?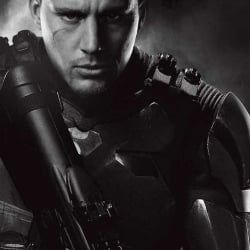 For months we've suspected there's something a little off about G.I. Joe: The Rise of Cobra, whether it's the goofy looking super-suit Channing Tatum wears or the fact that the only effects shot we ever see is the Eiffel Tower crumbling, over and over again, into a big pile of green powder.
But if the chatter on the Don Murphy message boards (via Vulture) is to be believed, this isn't just going to be your average silly summer movie. This might be an even bigger turkey than Land of the Lost. "After a test screening wherein the film tested the lowest score ever from an audience in the history of Paramount, the executive who pushed for the movie, Brad Weston, had Stephen Sommers, the super hack director of the film fired. Removed. Locked out of the editing room."
The poster is reporting that producer Lorenzo di Bonaventura was kicked off the production as well, but Bonaventura, speaking to Latino Review, obviously had a different story to tell. "It's completely untrue. [Sommers] was never asked to leave or been fired or any of that. That's ridiculous. The movie tested very well." The guys at Latino Review had also been hearing about positive test scores, though who their sources were for that they don't say.
It's hard to trust anyone in this situation, since a message board poster can say whatever the hell they want, and di Bonaventura has a lot riding on debunking any rumors and promising that everything about the movie is spectacular. The proof is probably somewhere in-between-- the G.I. Joe footage doesn't look good no matter what, and Sommers-- whose previous films include The Mummy and Van Helsing-- is probably getting the blame.
Di Bonaventura has plenty more to say at Latino Review, and he'll probably get the final word in this battle-- secrets don't get leaked from the editing room all that often. But if G.I. Joe comes out on August 7 and bombs horribly, well, you've been warned.
Staff Writer at CinemaBlend
Your Daily Blend of Entertainment News
Thank you for signing up to CinemaBlend. You will receive a verification email shortly.
There was a problem. Please refresh the page and try again.