The Director Of Star Wars: Episode IX Wants To Shoot In Actual Space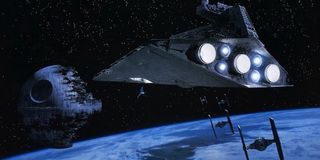 Although Star Wars: The Force Awakens is still tearing its way through the box office, the creative forces behind the franchise continue think about the future. Beyond merely propelling the iconic story forward, it's also a matter of innovating and finding new technical means to tell the story while staying true to the spirit of the saga. While director Rian Johnson will take the films to a darker, more sinister place with Episode VIII, it's the recent revelation from Colin Trevorrow and his vision for Episode IX that has us excited. Actually, excited doesn't event begin to describe it.
THR reports that Trevorrow expressed his desire not only to film Star Wars: Episode IX on film, but to actually shoot the movie in space:
The aspect of Colin Trevorrow's statement that has us most excited is the notion of actually filming a Star Wars movie in space. For decades the idea of outer space has intrigued moviegoers, but has always been something constructed out of special effects. Technology has come far enough where a feature length film could potentially be produced among the very same stars that the story takes place. Although the idea of shooting IMAX film in space is nothing new, this would mark a major moment for the Star War franchise. It's ultimately a minor detail and doesn't change the direction that the Star Wars franchise will go, but from a technical standpoint it represents the sort of feat that inspires future filmmakers to reach a little higher (literally) and break new ground with the cinema they produce.
When capturing the spirit of a major franchise like Star Wars, one must always endeavor to make sure that the aesthetic of the film remains consistent with what fans know and love. Shooting on film seems important to Colin Trevorrow because it preserves a look that fans have come to expect from an entry in this franchise. More and more directors seem to be coming around to this idea, as J.J. Abrams followed the same technique by shooting The Force Awakens, and Rian Johnson will continue that tradition with the next film in the saga. Trevorrow followed a similar route with his most recent blockbuster, Jurassic World. He shot the fourth installment of the iconic Spielberg series on film, because that represents the only way to truly capture the visual spirit of the original 1993 film.
In many ways this sort of thinking falls in line with the original vision of George Lucas. While many can call into question his talent as a storyteller, none can question his ability to innovate. Even iconic director Peter Jackson recently pointed out that George Lucas is in many ways the Thomas Edison of the modern blockbuster. As the Star Wars franchise continues to innovate, the industry as a whole will benefit from its brazen willingness to try new things with existing technology.
There's still so much time before Star Wars: Episode IX hits theaters, but if nothing else Colin Trevorrow's words remind us why the saga has become so beloved in the first place. The film is expected to hit theaters sometime in 2019.
Originally from Connecticut, Conner grew up in San Diego and graduated from Chapman University in 2014. He now lives in Los Angeles working in and around the entertainment industry and can mostly be found binging horror movies and chugging coffee.
Your Daily Blend of Entertainment News
Thank you for signing up to CinemaBlend. You will receive a verification email shortly.
There was a problem. Please refresh the page and try again.