Discuss The Hobbit With Spoilers And Rate It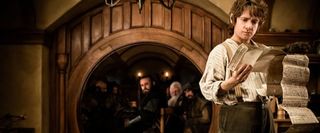 If you've been anticipating The Hobbit: An Unexpected Journey since the Lord of the Rings trilogy left theaters, odds are you've already caught the film at a midnight screening, and might already be planning your second or third viewings. While the new movie isn't quite as complex as any of the Lord of the Rings films, there's plenty to enjoy in this return trip to Middle Earth, plus some updated special effects and the much-hyped 48 frames-per-second technique that really does make it all look like you've never seen it before.
We've been writing about The Hobbit all week around here, from our four-star review to a conversation with Peter Jackson to a detailed guide about the differences between the book and the movie. But enough about us-- it's time to hear from you! Vote in our Hobbit poll below, then jump into the comments to sound off about how much you liked the movie, what you think will happen next, Gollum's terrifying eyes-- whatever you like. This is a SPOILER-FILLED ZONE, so don't join the conversation until after you've seen the movie!
This poll is no longer available.
Warning! The following comments section is intended to discuss The Hobbit with spoilers. Leave now if you haven't already seen the movie.
Staff Writer at CinemaBlend
Your Daily Blend of Entertainment News
Thank you for signing up to CinemaBlend. You will receive a verification email shortly.
There was a problem. Please refresh the page and try again.