Disney's The Jungle Book Looks Intense... And Kind Of Violent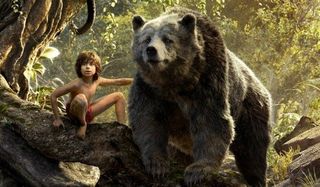 With Jon Favreau's adaptation of The Jungle Book now exactly a month away, Disney has decided to try and increase anticipation ahead of its release with a brand new minute-long trailer. And while the footage does a sterling job of introducing us to the world, characters, and the sublime cast that will be voicing them, it's all kinds of violent. Especially since it's supposed to be for family audiences.
Jon Favreau seems to have taken a page out of Christopher Nolan's book with his approach to Rudyard Kipling's seminal 1894 novel. Everything about the trailer screams that The Jungle Book wants to be taken very, very seriously, with Bill Pope's cinematography dripping in darkness and shadows.
Which is understandable. However there's a chance that The Jungle Book might be alienating its intended audience with just how scary and striking some of its images and visuals are. I mean, just look at Shere Khan lunging towards the screen, which is made even more frightening by the fact that he's voiced by Idris Elba.
And if having a Bengal Tiger roaring in your face wasn't scary enough, how about being chased through long grass by one. The scene looks as though it's been ripped straight out of The Lost World. Only this time, instead a raptor, it's a talking tiger, which is umpteen times scarier.
Oh, and just to make sure that your kids will forever be petrified of long grass and the zoo, here's Shere Khan lunging for Neel Sethi's Mowgli only for Ben Kingsley's Bagheera the black panther to do the equivalent of a gore on him.
And that's before we even get to the final shot of Scarlett Johansson's Kaa looking like she's about to eat Mowgli's face. We don't have long to wait to see if Jon Favreau's The Jungle Book is preposterously too violent for its own good, as it will be released on April 15, 2016.
Your Daily Blend of Entertainment News