Disney Sticks With Joseph Kosinski For Oblivion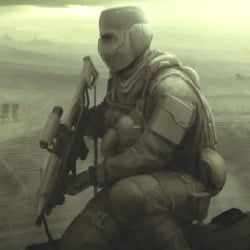 When the news hit earlier this week that Tron: Legacy director Joseph Kosinski was shopping his next project Oblivion around town, there was already plenty of speculation that Disney would snatch it up, given how happy they've been with Kosinski's work on Tron so far. Now that speculation, inevitably, has come true. THR reports that Disney has indeed picked up the project, which will be based on a graphic novel Kosinski wrote with Radical.
The first pages of the graphic novel are now online at Ain't It Cool, and we've included a few below as well. The story is set in a post-apocalyptic future where humans live in the clouds above a ravaged Earth. The main character is a handyman named Jak who lives on the surface of the Earth and discovers a mysterious woman inside an escape pod. Adventure ensues from there. Here's how Kosinski himself explained it to Comic Book Resources:
He actually goes into a lot more detail in the article itself, so check that out and more of the AICN images if you want more details on Oblivion. Or you can just hold tight and see the movie at some point in the next few years. Whichever works for you.
Your Daily Blend of Entertainment News
Staff Writer at CinemaBlend