Disney Sued Over Toy Story 3's Lotso Bear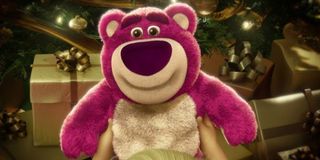 Toy Story 3 took theaters by storm in the summer of 2010. But long after the film won critical praise, two Academy Awards, and more than a billion dollars worldwide, Disney is being sued over its depiction of a huggable teddy bear as a conniving villain.
THR reports that a New Jersey toy company has taken Disney to Texas federal court over the creation of the not-so-cuddly character Toy Story 3 Lotso--as in Lots-O'-Huggin' Bear. The animated plush toy voiced by Ned Beatty was one of the dastardliest villains that Woody and his friends had ever faced. After being lost by his beloved child, he became a twisted creature who used the setting of Sunnyside Daycare as his own personal kingdom, reigning perks upon his followers and punishment upon any who dare defy him.
Revisit this bleak backstory here:
Now, you might think this depiction of a huggable teddy bear as a villain might be the source of this dispute. (I assumed as much at first). But actually, Diece-Lisa Industries is suing over trademarking issues, because they have been licensing "Lots of Hugs" teddy bears since 1995. They own trademarks and patents to that effect. In their complaint, the company points out Disney can't feign ignorance of their brand because DLI previously licensed their patented "hugging technology" to Disney's Bear in the Big Blue House toy.
Disney never paid them for use of a seemingly similar product, and of course, the studio/massive toy maker sells its own version of Lots-O'-Huggin' Bears. As seen below in this screengrab from The Disney Store's site (opens in new tab):
So, the New Jersey toymaker is suing on grounds of unfair competition, and trademark infringement, insisting on profits from Disney's "alleged bad actions." Diece-Lisa Industries goes on to say that the fame of Disney's Lotso is hurting their brand, specifying in the lawsuit that a recent deal with Interactive Group over a bear toy became complicated because:
Funny enough, Disney recently sued another company on a similar claim over a Frozen ripoff Frozen Land. But here, it seems the copyright claim might be a little less clear, namely because this case is about a smaller toymaker taking on a big company whose character is better known than the product its arguably inspired by.
You can read the full complaint here (opens in new tab), and weigh in on the case below:
This poll is no longer available.
Your Daily Blend of Entertainment News
Staff writer at CinemaBlend.