Disney Turns Its Future Over To IMAX 3D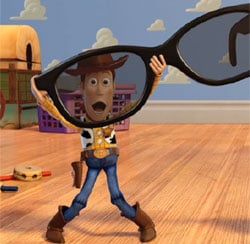 Looks like the IMAX 3D train shows no sign of slowing down; if it's a major release in 2011, you can pretty much bet on a version that comes on a huge-mongous screen with goofy glasses.
Variety reports that all three of Disney's spring/summer "tentpole" releases will receive the IMAX 3D treatment in 2011. This includes Mars Needs Moms, Pirates of the Caribbean: On Stranger Tides, and Cars 2.
This announcement comes as pretty much a given, following the $8.4 million weekend IMAX take for Toy Story 3 (around 8 percent of the total weekend gross for the film). This marks the second multi-picture deal IMAX has brokered this year--the first being a 20-picture, multi-year deal with Warner Bros., including the potential Batman 3 and Harry Potter and the Deathly Hallows.
While I know the IMAX 3D trend has been the source of some contention amidst film aficionados nationwide, more options are generally a good thing; it's not like the standard aspect ratio and 2D experience are going away any time soon.
Your Daily Blend of Entertainment News