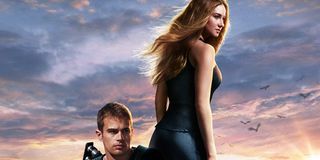 Divergent is the latest, greatest YA adaptation sensation that's about to break out (at least theoretically) and Lionsgate couldn't be more psyched. The promotional cycle has been in full force, with production moving ahead on sequels long before the first picture has even hit theaters. And fans who purchased The Hunger Games: Catching Fire on DVD were treated to a special preview of the film, a nice way to get awareness out to the core demographic. But it certainly helps to also have some people on your side, and Divergent just earned the seal of approval from perhaps the most important person in the process.
Veronica Roth is the writer behind the series, having penned Divergent, Insurgent and Allegiant. Each tells the continuing story of Tris, a special young teenager in a dystopian future, and each is going to be a movie, with Lionsgate already securing release dates for all three. But it wasn't until recently that Roth got to see the movie, offering her opinion on what made it through the Hollywood wringer. While she refuses to reveal spoilers (despite books of spoilers written by her in bookstores nationwide!!), she does offer her seal of approval. From her blog:
Of course, Roth's no dummy. Had she written about disliking the book, it surely would have robbed her of future sales, since book sales tend to skyrocket after the release of a film. And it's very possible she signed a non-disclosure agreement with the studio that forced her to keep silent about the actual movie, but both parties agreed a little bit of promotion wouldn't hurt anyone. As valued as Roth's opinion may be, this is still very obviously promotional.
But maybe it actually works. Burger is a capable director who previously made The Illusionist and Limitless and certainly seems like a guy with vision. Had he not worked in Divergent, he would have been world-building with Uncharted: Drake's Fortune. And release dates for the next two films in 2015 and 2016 certainly shows a level of confidence in the film. Maybe Roth just thought it was a great adaptation. Judge for yourself on March 21st.
Your Daily Blend of Entertainment News