Donald Glover And Andy Samberg Part Of Aubrey Plaza's Hand Job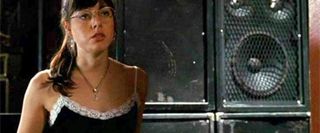 Hollywood may be shying away from R-rated dramas and action movies, but for some reason this formula of censorship and profit based on fear hasn't yet been applied to comedies. R-rated comedies are still just as in vogue as they were back when Judd Apatow was still directing good ones. The grosser and more offensive, the better it seems, so maybe we shouldn't be surprised that things are moving forward on The Hand Job.
The Hand Job is being made from a 2009 Black List script, and it's unlikely to contain anything as shocking as the bathtub scene in Hall Pass. However since it's a Black List script, unlike Hall Pass, it may be funny. At the least, they have a very funny cast. The Playlist caught up with Bill Hader, previously announced as being part of the film (and whose wife Maggie Carey wrote the script), and he spilled the beans on the latest additions to this comedic jerk off. Here's Hader:
Aubrey Plaza, probably best known from NBC's Parks and Recreation (the show for people who don't get Community but want to seem hip and funny), or from Scott Pilgrim vs. the World (nah nobody actually saw Scott Pilgrim, sadly) is still set to star in the film as a high school bookworm who graduates a virgin and decides she'd get busy. She's she's a studious type, the girl makes an order list which starts with a hand-job and, presumably, (just guessing here) ends up on the cover of a porn video sticking something in Peter North. All of this, except the part about Peter North, sounds pretty good.
Your Daily Blend of Entertainment News