Downton Abbey Star Joins James McAvoy and Daniel Radcliffe For Frankestein Feature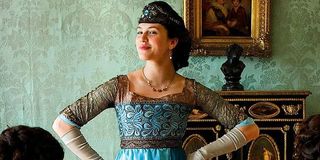 Prepare for fandoms to converge for Frankenstein! The Wrap has revealed that Downton Abbey's Jessica Brown Findlay (Lady Sybil Branson nee Crawley) will join forces with X-Men: First Class's James McAvoy (Professor Charles Xavier) and Harry Potter's Daniel Radcliffe (The Boy Who Lived) for a Frankenstein reboot that is sure attract the attention of fanboys and fangirls from all over. Come for the stars; stay for the WTF-factor.
Twentieth Century Fox is producing this untitled Frankenstein project. And while Mary Shelley's classic horror novel is its inspiration, screenwriter Max Landis has taken some curious liberties. For one thing, instead of focusing on Dr. Frankenstein or his horrific monster, this unnamed feature will center on the not-so-good doctor's loyal sidekick Igor. McAvoy will play the role of Dr. Frankenstein. Radcliffe will star as Igor. And rather than playing some prim fiancé to the doctor, Findlay will portray an attractive circus performer who grows close to Igor. The role of the monster has not yet been cast, though The East's Toby Kebbell and Radcliffe's Kill Your Darlings's cast member Jack Huston are said to be in competition for the part.
Landis, who we know is a passionate movie lover from his rant about Man of Steel, became fixated on where our modern concept of Igor came from, and set about on a personal quest to uncover his roots. (Listen to Landis rant on Igor here.) Then, he decided to interpret this misunderstood character with a new incarnation of the monster tale we all think we know so well, attempting to encompass all of its elements no matter how seemingly contradictory. Confused? So are we. But Landis has shown a gift for re-interpreting standard storytelling tropes, most notably with Chronicle, which gave the superhero genre a uniquely intimate and powerful drama.
Adding even more fan fervor to this release is director Paul McGuigan, who after making such forgettable action efforts as Lucky Number Slevin and Push drew notice with four feature-length episodes of the widely obsessed-over BBC drama Sherlock. Having helmed such series highlights as A Study in Pink and Scandal in Belgravia, McGuigan seems a perfect choice for an edgy new angle on the Frankenstein tale. However, it's currently unknown when this nameless monster movie--that's said to be a story of friendship and redemption over anything else--will roll into production.
In the meantime, look for Radcliffe in Kill Your Darlings on October 16th. McAvoy will be seen in Filth and The Disappearance of Eleanor Rigby later this year. Sadly, Findlay won't be returning to Downton Abbey (le sigh!), but is part of the star-stacked cast of Akiva Goldman's feature directorial debut Winter's Tale, which is set to hit theaters on Valentines Day, 2014.
Your Daily Blend of Entertainment News
Staff writer at CinemaBlend.