DreamWorks Animation Stock Falls Even With Puss In Boots At #1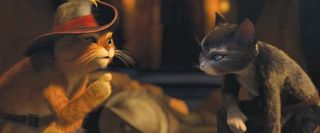 Puss in Boots was the undisputed box office champion over the weekend, with a $34 million haul that put it about on par with the year's other animated releases like Rango and Rio. But that's also lower than all of the Shrek films opened, especially given the bump for higher 3D ticket prices, and even if moviegoers didn't notice it, the stock market did. Reuters reports that DreamWorks Animation shares fell 7% on Monday morning, reflecting directly on Puss in Boots's mediocre weekend at the box office.
In fact, the $34 million isn't just lower than all of the Shrek movies-- it's the company's lowest opening since Flushed Away in 2006. Yes, Puss in Boots-- a spinoff from DreamWorks Animatiion's indisputably hit series-- grossed less in its opening than the studio's lowest-grossing film since Sinbad: Legend of the Seven Seas. When you put it that way, getting #1 at the box office doesn't seem like such an accomplishment after all.
DreamWorks is blaming the snowstorm on the East Coast for taking a few million off their gross, and to be sure, the movie will play just fine in the coming weeks, with nothing else so explicitly kid-friendly coming until Happy Feet Two on November 18. But if DreamWorks Animation was planning to mine the Shrek franchise and its side characters for spinoff movies for years to come, they might need to rethink their strategy. Yes, I know studios never want to err on the side of originality-- but we can hope for now, right?
Staff Writer at CinemaBlend
Your Daily Blend of Entertainment News
Thank you for signing up to CinemaBlend. You will receive a verification email shortly.
There was a problem. Please refresh the page and try again.