Due Date Trailer: Zach Galifianakis And Robert Downey Jr. Hit The Road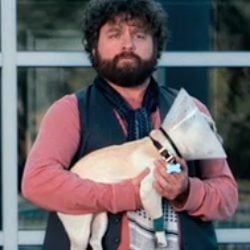 At ShoWest back in March Warner Bros. showed off a fairly long, detailed and hilarious trailer from Due Date, including scenes from throughout the road trip comedy starring Robert Downey Jr. and Zach Galifianakis. You know what's crazy? From what I remember that trailer shared almost nothing in common with the teaser trailer that debuted today. Either they've scrapped all the good scenes from the original trailer or this is a movie filled with so much funny that they've got enough for two trailers and then some.
I'm, of course, going with the latter-- this is a movie directed by Todd Phillips, after all, the man who suddenly became a mogul after directing The Hangover, and it's basically two hours of watching Downey Jr. and Galifianakis bounce off each other in a car. It's not the most original concept for a comedy you've ever heard, but it might be the most brilliant.
Check out the trailer below and prepare yourself for November 5, which is the day Zach Galifianakis has an allergic reaction to waffles at Waffle House, and the world rejoices.
Your Daily Blend of Entertainment News
Staff Writer at CinemaBlend