Ed Harris May Reteam With Michael Bay For Pain And Gain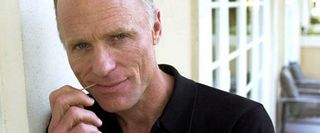 Action-movie ringmaster Michael Bay is currently in negotiations with Paramount Pictures to craft the seemingly inevitable Transformers 4, but Bay's made it plain that his top priority at present is to shoot his ripped-from-the-headlines thriller Pain and Gain. Inspired by the immoral escapades of the Sun Gym gang, the film would center on a pack of burly but dumb bodybuilders who decide to make some quick cash by robbing and kidnapping an affluent Florida businessman. After a series of roid rage-fueled beatings, the macho morons leave their victim for dead and with a taste for bloody revenge. Their comeuppance later comes at the hands of a private investigator hired to track them down.
While this plotline could easily lend itself to the gritted-teeth theatrics of No Country For Old Men, Bay plans to play up the bungling buffoons aspect of the story, making Pain and Gain a darkly comedic caper in the vein of the more spirited Coen brothers' effort, Fargo. To that end, Bay has already secured Dwayne Johnson, who—it's safe to assume—will play one of the Sun Gym gang. And now Vulture has revealed that Bay's courting Ed Harris, who co-starred in Bay's Alcatraz-set thriller The Rock, to play his gun-for-hire detective.
Personally, my interest is piqued by the criminally deranged concept, but it's Harris' involvement that has me outright intrigued. The always-solid performer has a deft ability to play both comedy and drama, and an onscreen confidence that makes him an awe-inspiring tough guy. Simply put, he's an inspired pick to ground Bay's over-the-top style with some rugged glower power. However, as negotiations between Paramount and Bay are ongoing, it's too soon to say if Harris will indeed be inked for the final cast. With Bay looking to shoot Pain and Gain this spring, though, a confirmation, one way or the other, should hit soon.
Your Daily Blend of Entertainment News
Staff writer at CinemaBlend.
Your Daily Blend of Entertainment News
Thank you for signing up to CinemaBlend. You will receive a verification email shortly.
There was a problem. Please refresh the page and try again.