Eddie Redmayne Is Dying To Play This Bizarre Superhero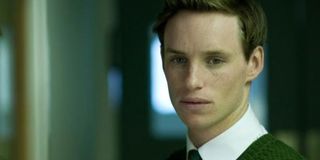 English actor Eddie Redmayne has been on a serious hot streak leaping from one Oscar-noticed movie to another. 2011 brought the twice nominated My Week With Marilyn. 2012 brought the three-time Oscar-winning musical blockbuster Les Miserable. And now in 2014, he's earning Oscar buzz for his lead role in the Stephen Hawking biopic The Theory of Everything. But if Redmayne had his pick of a follow-up to all these critically heralded dramas, he'd front an unexpected superhero movie.
While promoting The Theory of Everything, Eddie Redmayne admitted that he desperately wants to get into the superhero movie bonanza. Forget Batman or his many nefarious foes. Forget the entirety of the X-Men, and the whole of the Justice League. Actually, scrap DC and Marvel altogether. Redmayne has his eye on Bananaman.
He tells Yahoo:
If you're somehow unfamiliar with this fringe superhero, let's break him down. Bananaman was a creation meant to parody the conventions that Batman and Superman comics set up. He first appeared in Nutty on February 16th, 1980, and went on to become the British humor comic's most popular character. By 1983, Bananaman had his own cartoon show. Check out its opening below:
Eric Wimp (A.K.A. Eric Twinge) was a thin slip of a boy who becomes the superpowered, high-flying Bananaman when he has a bite of the bright yellow fruit. Among his fearsome foes are General Blight, Appleman, Bubblegum Bert, Skunk Woman, Captain Cream and Witchy Woman.
Maybe you're looking at this silliness and thinking that no matter how popular the superhero movie trend is, there's no way Eddie Redmayne will get to become Bananaman. Well, believe it or not, he may have already missed his chance. The Guardian reported in March of this year that a Bananaman began production. However, little is known about this film, aside from its aspirations to hit theaters in 2015. But hey, if Spider-Man and The Fantastic Four can get a quick reboots, why not Bananaman?
Staff writer at CinemaBlend.