Edgar Allan Poe Battling Demonic Forces? This New Trilogy Sounds Badass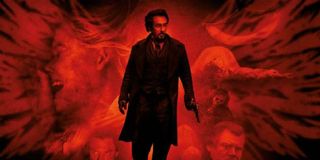 Renowned poet Edgar Allan Poe as a demon-fighting, Constantine-like, alcohol-consumed figure trying to cope with the death of his wife? Sounds like something Keanu Reeves or Nic Cage would think about getting involved in, but it turns out this is Idris Elba's next big movie project that'll keep him busy for some time.
According to Variety, Heimdall himself is producing a new trilogy through his Green Door Production Co. based on Poe Must Die by Marc Olden. Check out the novel's summary. It's pretty wacky:
To complicate matters even more, Poe teams up with a man named Pierce James Figg who's hunting down a sorcerer named Jonathan. Not only is this guy after something called the Throne of Solomon, which grants immortality and dominion over demons — including head honcho Lucifer — he's also the one responsible for murdering Jonathan's wife.
It seems like a complex, fantastical thriller with a lot of moving parts — and we're so ready to see this! We'd like nothing more than for Elba to play Poe (preferably Poe) or Jonathan, but this guy is pretty busy. He's currently set to appear in and produce the drama A Hundred Streets from director Jim O'Hanlon, he'll reprise his Thor role for Avengers 2, and he'll be seen opposite Sean Penn and Javier Bardem in The Gunman. In addition, he's also set as the voice of Shere Khan in Disney's upcoming take on The Jungle Book, and he has a voice role in the Finding Nemo sequel Finding Dory. If that weren't enough, there's also those leaked Sony emails to consider. If they're to be believed, then he maybe just might become our new James Bond after Daniel Craig finishes his last martini and retires his suave 007 wardrobe. Of course, Craig is contractually obligated to film one more Bond flick after Spectre, so we won't have to worry about that for a little while.
The folks at Paradigm, who are also in on this Poe Must Die deal, seem pretty confident in the project. While we're already intrigued by the supernatural explosion that is the book's description, we can't forget what happened when Hollywood previously tried to turn historic or literary figures into action heroes. Abraham Lincoln: Vampire Hunter instantly comes to mind. Though, they have had a success or two. While Sherlock Holmes wasn't technically an action hero, the Robert Downey Jr. version was pretty entertaining, and Johnny Depp's Ichabod Crane in Sleepy Hollow (which seems to fall into a similar sub-genre to Poe Must Die) was fun to watch. We're excited to learn more on where Poe Must Die lands in the canon, and hopefully it won't lean towards something like Cage's Season of the Witch.
Your Daily Blend of Entertainment News
Thank you for signing up to CinemaBlend. You will receive a verification email shortly.
There was a problem. Please refresh the page and try again.