This Beloved Marvel Villain Is Confirmed For The Avengers 2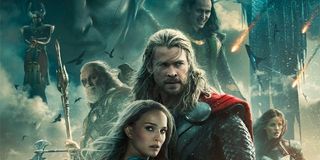 WARNING: What follows may wind up being spoilers for The Avengers: Age of Ultron. Do not read past this point if you don't want to know some very interesting new cameos that have just been revealed by one of the Marvel Cinematic Universe's stars.
The charm of Marvel Studios' Avengers movies is that they are actively bringing together a number of different franchises. For the first time ever, Joss Whedon's 2012 film brought together the likes of Iron Man, Thor, Captain America and Hulk to do battle against a threat too dangerous to deal with alone. The upcoming Avengers: Age of Ultron, however, needs to step up that game - in true sequel fashion - and that means ever more inner-connectivity and even more characters. Which is what brings us to the news that two of the most beloved characters in the Thor franchise, Loki and Heimdall, will be in the new movie.
The Guardian has published a recent interview they did with Thor and Thor: The Dark World star Idris Elba, and in the article the actor reveals that both he and Tom Hiddleston will be appearing in The Avengers: Age of Ultron. Elba told the UK paper that he had just been filming something the day before for the Avengers sequel, and even gave away some vague details about what he will be doing. He told the paper,
Those familiar with the intricate details of the Marvel Cinematic Universe know that Idris Elba plays Heimdall in the Thor movies and serves as the gatekeeper to Asgard. It is his responsibility to both help transport individuals to other realms and also serve as the first line of defense against any unwanted intruders:
If he is involved, it presumably has something to do with Thor returning from Earth back to his home world - which is being ruled by Loki disguised as Odin (Anthony Hopiks), as shown in the final scene of Thor: The Dark World.
While I'm almost certain that Marvel Studios is not going to be happy with Idris Elba and his loose tongue, it's interesting that his reveals sync up with some of what Marvel Studios' Kevin Feige was talking about at last week's big presentation. Feige said that the upcoming Thor sequel, Thor: Ragnarok, would be picking up immediately after the events of The Avengers: Age of Ultron, and what Elba is describing could be the link between the two. Presumably that means that this is going to be a post-credits scene - which would explain why it is happening so longer after production on Avengers 2 has wrapped.
What do you think of this new development? What are your theories for what's going on? Tell us your thoughts in the comments below.
NJ native who calls LA home; lives in a Dreamatorium. A decade-plus CinemaBlend veteran; endlessly enthusiastic about the career he's dreamt of since seventh grade.
Your Daily Blend of Entertainment News
Thank you for signing up to CinemaBlend. You will receive a verification email shortly.
There was a problem. Please refresh the page and try again.