Edgar Wright Hints At Multiple Ant-Men In Ant-Man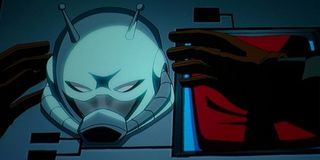 Apparently, director Edgar Wright and Marvel head Kevin Feige have been talking about Ant-Man since 2006, before Iron Man and the launch of the cinematic Marvel universe. Eight years is a long time to spend developing a character most comic fans regard as a joke, though Wright and Attack The Block helmer Joe Cornish have spent years laboring over the story for one of Marvel's longest-tenured Avengers in an attempt to finally legitimize a character than even average movie fans are scoffing at. The casting of Paul Rudd surely goes a long way towards making 2015's Ant-Man a potentially good time, but what remains surprising is that we still don't know who Rudd is playing.
A post on Wright's blog suggests he's still at work on the story, claiming he's doing "homework." Included was a photo that was taken from an episode of the cartoon Avengers: Earth's Mightiest Heroes called To Steal An Ant-Man. A little research done by the fine folks at Coming Soon reveals that the episode is based on Marvel Premiere #47, an issue where original Ant-Man Hank Pym has his technology stolen by a criminal named Scott Lang, who uses it to commit crimes. Wright has long addressed the issue of possibly being two Ant-Men, but that suggestion was soon downplayed in favor of various rumors surrounding the film, which has a primo July 31st, 2015 release date.
Is Rudd playing the stalwart hero and genius Pym, who pioneers the tech and uses it with girlfriend Janet Van Dyne, aka the Wasp? Or is Rudd the fiendish Lang, a mischievous sort trying to provide for his sick daughter, a guy who eventually redeems himself as a hero? Probably the former, though not only would it be a great role-reversal to have Rudd as basically the antagonist in what Feige is describing as a "heist" film, it would also give Marvel the chance to try out someone untested in the Pym part. The guess is Wright and Marvel will be somewhat tight-lipped about this, and the casting of another main lead will vex non-comic fans who write about movies (these exist, by the way).
Pym, for the record, is the first of several characters to don the Ant-Man costume, and it would be amusing if Wright's film took advantage of the character's identity crisis and revolving roster of alter egos, making Pym face off against several characters who have stolen his equipment. Pym himself has gone through various changes in his career, taking on the monikers of Giant Man, Goliath and Yellowjacket during his tenure as a Marvel hero.
While some question whether making an Ant-Man movie is worthwhile, diehards would note that each of the original Avengers thus far have made it onscreen with the exception of Ant-Man and Wasp. Ant-Man isn't figured to factor into Avengers: Age Of Ultron (which will be released before Ant-Man, but it's certainly possible he'll be rubbing elbows with Thor and Iron Man in Avengers 3: The Grim Reaper I Guess? in 2018 (or beyond).
Your Daily Blend of Entertainment News
Thank you for signing up to CinemaBlend. You will receive a verification email shortly.
There was a problem. Please refresh the page and try again.