Eli Craig To Rewrite And Direct Your Bridesmaid's A Bitch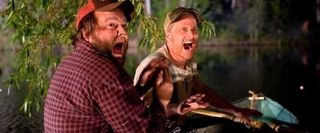 Eli Craig's Tucker and Dale vs. Evil was the perfect example about how video on-demand systems these days can turn little movies into unlikely hits. The horror comedy premiered at the Sundance Film Festival to raving midnight crowds, and though it got a small theatrical release, it found a lot of its audience on-demand, where the goofy, gory comedy about two rednecks mistaken for classic horror movie killers found exactly the Friday nigh audience it was looking for.
Given how well Craig handled horror movie tropes in Tucker and Dale, it's a little surprising to see he's moving away from the genre entirely for his next film. Deadline reports that Craig will be rewriting and directing the script Your Bridesmaid's A Bitch, about a groomsman who learns his ex is a bridesmaid at the same wedding. The original script by Brian Duffield landed on the Black List of Hollywood's favorite unproduced screenplays in 2010, and Duffield did a lengthy interview with the script review site Script Shadow talking about it-- though of course, with Craig rewriting, there's no way of knowing just how similar the project will be in the end.
Don't worry too much about Duffield, though-- he's sold two other scripts since Bridesmaid blew up, and if the original was as popular as it sounds, he'll be just fine. In the meantime we get to watch Craig, a modest indie success story with a growing number of fans, continue taking the unlikely success of Tucker and Dale into new directions. If you've seen that movie, you don't need me to tell you he's a voice worth hearing a lot more from in the future.
Staff Writer at CinemaBlend
Your Daily Blend of Entertainment News
Thank you for signing up to CinemaBlend. You will receive a verification email shortly.
There was a problem. Please refresh the page and try again.