Elijah Wood Will Be In The Hobbit Even Though Frodo Hasn't Been Born Yet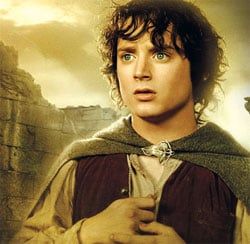 There's still no word on whether or not Sir Ian McKellan will reprise the role of Gandalf in The Hobbit, even though outside of Bilbo Baggins, Gandalf is probably the most important character in the story and they're only a couple of weeks away from shooting. But we do know that Elijah Wood will be in it, though Frodo Baggins isn't even alive during the time period in which The Hobbit takes place.
The One Ring has confirmed that Wood will return to Middle Earth when Peter Jackson begins filming the first installment in his Lord of the Rings prequels. Word is he isn't actually locked up yet and is still in talks, but they don't think there will be any problem since it is believed that he was consulted during the scripting phase and is on board with what Peter Jackson is doing. Not only do we now know he'll be in the movie, we even know how they'll fit him in and get around that whole pesky "not born yet when this story happens" thing. This is a pretty big spoiler though, so if you don't want to know, stop reading right here.
Final Warning: Spoilers for the movie version of The Hobbit follow.
Word is that Elijah's Frodo will show up at the beginning of the film. One Ring's explanation of exactly how this happens is a little confusing so I'm just going to quote it here and see if you can make better sense of it than me:
Confused? Yeah me too. Suffice to say Frodo will show up at the beginning of the movie in some sort of plot device which brings us all back into the world of Middle Earth. Good enough.
For more info on The Hobbit including a complete breakdown of the cast members confirmed so far visit our Blend Film Database.
Your Daily Blend of Entertainment News