Eminem Returns To The Big Screen In Shady Tales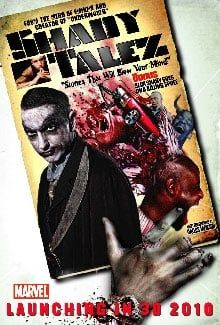 "Guess who's back, back again. Shady's back," in Shady Talez. Yes, it's true, the real Slim Shady will be standing up on the big screen, yet again. Eminem, aka Marshall Mathers, will star in the 3D horror anthology described as The Twilight Zone meets Creepshow. Other than his brief stint in Funny People, Shady Talez will mark his first feature film appearance since 2002's 8 Mile.
As reported by Screen Daily, Shady Talez will be one of several multicultural projects from D.J. Classicz/Davis Entertainment, the union of I, Robot producer John Davis and writer/producer Dallas Jackson. Fox will be handling domestic distribution thanks to Davis' first-look deal with the studio and they've enlisted James MacLean to help attract international buyers. Writing duties fall to Jackson and Underworld's Kevin Grevloux.
According to Blood Disgusting, this is what you can expect:
Eminem is surprisingly good in 8 Mile, but don't forget, he is playing himself (or at least a version of himself). Just because he can do what he did in real life on the silver screen and be convincing doesn't mean he can be as believable playing a completely original character. Well, unless the star of Shady Talez happens to be a rapper with an affinity for catchy hooks and snobby celebrity beat downs.
No word on a release date, but Marvel has plans to launch a Shady Talez four-issue comic book in 2010.
Your Daily Blend of Entertainment News
Staff Writer for CinemaBlend.