Emma Watson Refuses More Harry Potter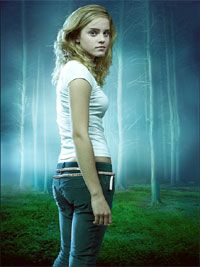 Now that Daniel Radcliffe is signed and committed to seeing Harry Potter through to the end by playing the character in all the remaining movies, many had hoped it would mean the rest of the primary cast was about to fall in line. Well forget it. Bad news Potterheads, Emma Watson is done with being Hermione.
Emma has long been pretty vocal about how hesitant she is to keep playing the character. As early as last September rumor started swirling about her departure from the franchise. Now things have heated up, and it's starting to look all but certain.
NewsoftheWorld.co.uk says that Emma has refused to sign another contract, which would have her playing Hermione through the final two films in the series. This isn't just a negotiating ploy. Emma has told producers that even doubling her pay won't get her to sign on the dotted line.
It's not just Emma's contract negotiations that are in trouble, apparently her relationship with her Potter co-stars Daniel Radcliffe and Rupert Grint is now non-existent. Rupert says, "Daniel and I are distant from her now. We don't text or talk to her when we are not filming." She really sounds like she's distancing. Grint futher confirms, "Emma doesn't want to do it any more. She's tired of being known as 'that girl from Harry Potter'."
Emma's portrayal of Hermione has always been pretty controversial. Fans either seem to love her, or hate her. For me, she's been the best thing about the Harry Potter series and Emma Watson's departure and replacement by some other random actress would mean a big drop in my Potter interest level.
For now, prepare to enjoy Emma Watson in Harry Potter and the Order of the Phoenix this summer. It may the last time you see her as Hermione.
Your Daily Blend of Entertainment News