Enter Our Good Old Fashioned Orgy Giveaway, And See Five Exclusive New Images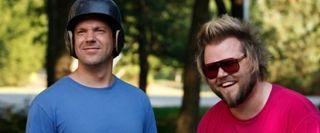 This Labor Day weekend, Jason Sudeikis wants to invite you to his orgy. You know, the good, old-fashioned kind of orgy you remember from the summers of your youth. OK, maybe orgies are the kind of things only SNL stars and their famous friends can get up to, but either way, you know you're curious to know the secret behind A Good Old Fashioned Orgy when it comes to theaters on September 2 this year. The movie stars Sudeikis along with a ton of other names you know, including Leslie Bibb, Lucy Punch, Martin Starr, Will Forte, David Koechner, Lake Bell and Nash Bridges himself, Don Johnson.
Today Cinema Blend is the official stop of the A Good Old Fashioned Orgy World Wide Web Tour of 2011, which is exactly as grand and spectacular as it sounds. Not only can you check out five exclusive new images from the film below, but you can go here to enter the sweepstakes to win a Good Old Fashioned Orgy prize pack, which includes a movie poster signed by the cast and a "Labor Day Orgy" T-shirt. Since we're today's stop on the tour, you'll need the code CINEMABLEND to enter the contest. Don't ever say we never did you any favors!
Check out the five exclusive Good Old Fashioned Orgy images below. Click on each to see it in high-res.
Make sure to enter the contest, and catch A Good Old Fashioned Orgy in theaters this Labor Day weekend.
Your Daily Blend of Entertainment News
Staff Writer at CinemaBlend