Entertainment Weekly's Boyhood Cover Is The Creepiest Thing That's Ever Creeped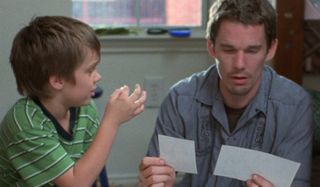 For Entertainment Weekly's latest cover, the editorial team decided to feature Richard Linklater's incredible film, Boyhood. A fantastic choice, to say the least: it swept most of the major categories at the Golden Globes, and it's a surefire front-runner for the Oscars. Upon looking at the magazine's finished product, however, the image they chose to run with just looks…well, kind of creepy.
The idea definitely seems cool — Boyhood was filmed over the course of 12 years, and during that time we saw its star Ella Coltrane grow up on screen from a young boy to an adult. So why not find some way to include the three key stages of his character's story in one cover? Perhaps it's the Photoshop, especially around 11-year-old Coltrane, but the image gives off a "Come play with us, Danny" vibe than something suitable for the glowing Oscar contender it is.
Despite this haunting image, it's pretty safe to say that Boyhood will dominate the Oscar nominations when they're announced tomorrow morning. We're sure Richard Linklater is thrilled by the attention he's receiving for Boyhood, but it didn't seem as though something as small as an under-the-radar indie film could emerge as the darling of awards season. As Linklater told EW:
So far, Boyhood has won three Golden Globes: Best Picture, Drama; Best Director for Linklater; and Best Supporting Actress, Drama for Patricia Arquette. It also has a buttload of SAG, BAFTA and Critics Choice nominations to its name, in addition to all the critical acclaim its received (especially from President Obama). And all signs are pointing to some major victories this Oscar season. Some other buzzed-about contenders this year are the Martin Luther King, Jr. pic Selma, Brits Benedict Cumberbatch and Eddie Redmayne for The Imitation Game and The Theory of Everything, and Julianne Moore's Still Alice. Despite all this strong competition and the chaos of awards campaigning, Boyhood has remained on everyone's minds. It is truly a piece of cinematic history that we might never see replicated in our lifetimes.
I wish the same could be said of its EW cover…
Your Daily Blend of Entertainment News
Thank you for signing up to CinemaBlend. You will receive a verification email shortly.
There was a problem. Please refresh the page and try again.