Richard Linklater Says His Next Film Will Be A Continuation Of Boyhood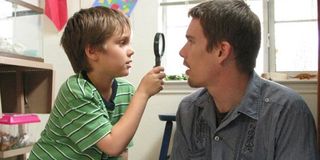 Could Richard Linklater have his own shared cinematic universe in the works? It seems like a farfetched notion, we know, as Dazed and Confused and his most recent film, Boyhood, are not directly linked. But that's not stopping the filmmaker from drawing a connection between those two movies and his next project. The director is currently busy working on his next film, which he's previously described as a "spiritual sequel" of his classic period dramedy, Dazed and Confused, and now he's added that the feature will also be a continuation of sorts to his most recent hit, Boyhood.
Linklater brought up this connection while speaking with Creative Screenwriting, first by explaining how the upcoming That's What I'm Talking About is a "spiritual sequel" to Dazed and Confused and then going on to describe it as a sort of continuation of his 11-years-in-making epic... though not in the traditional sense:
The concept of "coming-of-age" seems to be one that fascinates Richard Linklater, given that a small chunk of his career has been dedicated to telling these kinds of stories, most notably in Dazed and Confused and Boyhood. Sadly, there will never be anything quite like the director's most recent film, as that undertaking was really quite extraordinary, but it sounds like That's What I'm Talking About has a chance to hit on similar, albeit more mature notes. The movie won't feature any characters or story continuations from Dazed and Confused or Boyhood, but it sounds like the themes and conflicts that we all recognize from those eras of our lives will be further developed.
Linklater's upcoming period film has been described as following a college freshman as he gets acquainted with his roommates and a girl over the course of a weekend. As the director mentions, this makes its thematic connections to Boyhood rather obvious, as that's really where we left Ellar Coltrane's Mason at the end of his childhood story. That's What I'm Talking About is populated with a cast of rising talent, including Tyler Hoechlin, Wyatt Russell, Ryan Guzman, Zoey Deutch, Will Brittain, and Glen Powell. That probably means, unfortunately, no surprise cameo from Matthew McConaughey's David Wooderson.
Your Daily Blend of Entertainment News
Thank you for signing up to CinemaBlend. You will receive a verification email shortly.
There was a problem. Please refresh the page and try again.