President Obama's Favorite Movie Of 2014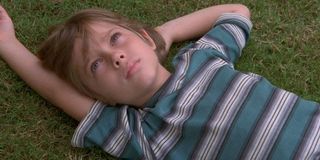 President of the United States Barack Obama has revealed that his favorite movie of 2014 was none other than Richard Linklater's Boyhood. Apparently the Commander in Chief has decided to take a break from his political duties to try his hand at film criticism, and in the process he made a pretty wise choice.
According to Politico, Barack Obama was recently asked by the press what his favorite movie of the year was, and his response was, "Boyhood was a great movie. That, I think, was my favorite movie this year." It's a rather smart choice, as Linklater's drama has been found on many professional critics' Top 10 lists of the year so far. Of course, we also don't necessarily know how much time he gets to go to the movies. maybe he hasn't actually seen that many films this year, and Boyhood only triumphed because its main competition came from Transformers: Age Of Extinction, The Purge: Anarchy, and Teenage Mutant Ninja Turtles. If that's the case it would be understandable. I mean he is the President of the United States after all, so he is quite a busy man.
During the discussion, Barack Obama's wife, Michelle Obama, also voiced her opinion on Gone Girl. It turns out that she wasn't that fond of David Fincher's adaptation of Gillian Flynn's engrossing novel. Here's what Mrs Obama declared,
Poor David Fincher. Surely he deserves a bit more respect than that, especially from the First Lady.
Boyhood has had a rather impressive year. The coming-of-age drama was filmed intermittently over an eleven-year period that stretched from May 2002 all the way through until October 2013, and it depicts the trials and tribulations of the young Mason Evans, Jr. (Ellar Coltrane), as well as his relationship with his mother Olivia (Patricia Arquette), his older sister Samantha (Lorelei Linklater), and Mason Sr. (Ethan Hawke), his father. The film sumptuously moves from being tragic one moment to amusing another, while it's constantly compelling and intimate. Ethan Hawke and Patricia Arquette give the best performances of their careers, while Richard Linklater's direction is composed throughout, never stretching for drama and constantly remaining patient and trusting its plot to engross. Over the last few weeks it has finished on top of a number of year-end lists, including those of The New York Times, The Washington Post, Indiewire and the British Film Institute. So it's safe to say that Barack Obama chose wisely then.
Your Daily Blend of Entertainment News
Your Daily Blend of Entertainment News
Thank you for signing up to CinemaBlend. You will receive a verification email shortly.
There was a problem. Please refresh the page and try again.