Eva Green Says She's Done With James Bond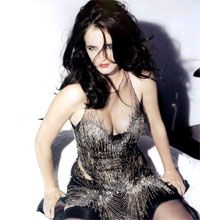 Eva Green is absolutely gorgeous as the witch Serafina in Chris Weitz's The Golden Compass, but those tattered rags hide some of the extreme hotness we've seen from her in movies like The Dreamers and Casino Royale. Normally, Bond babes don't do more than one movie, especially dead ones, but I'd love to see her slide into another slinky dress and somehow work her way into the next Bond movie.
Everything's better with Eva Green in it, and at one point she had hinted that she might actually end up in Bond 22. Well forget it. She recently spoke again on the subject to The Guardian, and said abandon all hope for more banging of Daniel Craig. Or more specifically, she told them she wont' be in it, "contrary to internet rumor"… you know, the one she started. She adds, "So, yes there will be pictures [of Vesper] and things like that. I don't know who the Bond girl's gonna be. I'm a bit jealous! I hope it will be terrible,' she lies. 'I will be the love of his life."
Your Daily Blend of Entertainment News
Thank you for signing up to CinemaBlend. You will receive a verification email shortly.
There was a problem. Please refresh the page and try again.