Live Like One Of The Royal Tenenbaums With An American Museum Of Natural History Sleepover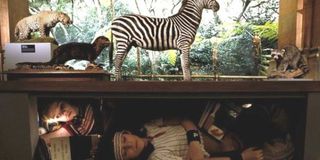 There's loads of romance to be found in Wes Anderson's odd love letter to New York City, The Royal Tenenbaums. But one of the most enviable activities the Tenenbaum children enact is hiding away in the American Museum of Natural History. And now you can do it too. Well, sort of.
Gothamist has tipped us to a special adult-only event hosted by the AMNH. As a nod to another movie where characters creep around the American Museum of Natural History at night, the sleepover event series is called "A Night At The Museum." As that kiddie movie title might suggest, AMNH has so far held its exploration-based sleepovers for children. But for the first time ever this institute of learning and wonder is doing the same for a more mature crowd. It's a thrilling chance at adventure, but it'll cost you.
The price for this enticing adults-only Night At The Museum is $375 per person, or $325 if you're an AMNH member. You must be over 21 to buy a ticket, in part because this special event will begin at 6:30 PM with a champagne toast in Theodore Roosevelt Memorial Hall. This classy introduction will be made complete with musical accompaniment of the 12th Night Jazz trio. A three-course dinner will follow. Then things get decidedly less sophisticated, and way more fun.
You can explore the halls of American Museum of Natural History, using a flashlight as your guide. You'll have access to a special presentation of The Power of Poison exhibition hosted by curator Mark Siddall. In the Kaufman Theater, you'll be granted up close and personal access to a live animal demonstration. Finally at midnight, you will play witness to a screening of the Neil deGrasse Tyson-narrated Dark Universe Space Show. Geek out with your chic out.
But perhaps best of all is the sleeping accommodations afforded at AMNH. Taking a cue from The Royal Tenenbaums, this event allows you to curl up under the museum's most iconic animal exhibit: the big blue whale. More precisely, you'll be invited to unfurl your sleeping bag under the hanging 94-foot-long blue whale in the Milstein Hall of Ocean Life.
(Image courtesy of the American Museum of Natural History)
Only 150 people will be allowed access to this Sleepover For Grown-Ups, so keep an eye out. Tickets are expected to go on sale any day now for its debut on August 1st.
Your Daily Blend of Entertainment News
Staff writer at CinemaBlend.