Ewan McGregor Is Playing Jesus, Here's How He Looks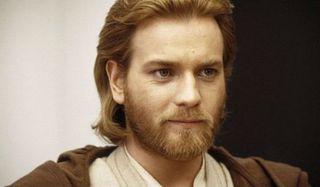 Yet another film portrayal of Jesus of Nazareth will hit theaters in the new year. And the first photo of the worn-down and ragged Ewan McGregor, as the man of the hour in the new film, Last Days in the Desert, has just surfaced. Take a look.
The photo released by The Hollywood Reporter, gives a glimpse into the setting where most of the film will take place, as the tale follows Jesus's 40 day and 40 night fast through the desert. Upon the journey, the son of God is visited by Satan who tries to tempt the young man into breaking his fast, and turning against God. As the story in the Bible goes, Jesus obviously refuses, but not without struggle.
This film looks to be a minimalist production but is bound to have a dramatic take on those emotional struggles. Ewan McGregor is also cast as the Devil in an imagined chapter from his time in the desert which should be an incredible opportunity to show off his acting range. The photo above follows a typical visual portrayal of Jesus, which we've seen in many other films. Played by a caucasian man with long brown hair, and scruffy beard. Place him in some ragged clothing, touch up with a bit of dirt. It's an image that comes straight from the Catholic church. And one that even film productions never stray too far from.
In the 1988 film, The Last Temptation of Christ we follow a similar-looking Jesus played by Willem Dafoe. The only difference here is that Dafoe has a bit shorter hair, but still, similar aesthetic.
Or the Jim Caviezel version in Mel Gibson's The Passion of the Christ which featured a bit cleaner representation of Jesus, but nonetheless still a similar looking actor.
The most recent film featuring Jesus came out earlier this year entitled, Son of God, adapted from a History Channel miniseries The Bible. It stars Diogo Morgado, who has been deemed by viewers as the hipster Jesus, being far too pretty to play the role.
Whatever story of the Bible films may follow, there aren't many adaptations out there that give Jesus a new look. The only one that comes to mind is The Jesus in The Big Lebowski—my personal favorite.
Other than that, looks like casting is going to stick with the bearded hipster look for the Messiah. Keep your eyes peeled for Ewan McGregor's version in Last Days in the Desert coming out some time in 2015.
Your Daily Blend of Entertainment News
Thank you for signing up to CinemaBlend. You will receive a verification email shortly.
There was a problem. Please refresh the page and try again.