Exclusive Pirates Of The Caribbean Banner: Jack Sparrow Wields Two Guns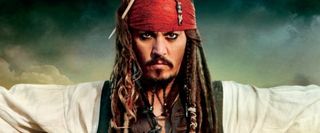 Jack Sparrow is a guy you'd want to party with, of course-- he always knows where the rum is and can charm pretty much anyone, especially when it comes to getting out of trouble. But sometimes Jack Sparrow just means business, and has the weapons to prove it. That's definitely what's happening in a new banner poster for Pirates of the Caribbean: On Stranger Tides, which Disney has provided to us exclusively and you can see below. Jack has two guns in each hand, sparks coming out of both of them, and flaming ships behind him to prove exactly how much damage he can cause.
With its simple look and focus on Jack and his iconic look-- the bandana, the beads-- the banner fits in nicely with the teaser poster we've already seen. I like the idea that, with On Stranger Tides, they're going back to the basics of Jack's character and what's made the Pirates franchise so beloved all along. Check out the banner image below, click on it for the much larger version in our Blend Film Database, and look for the movie itself in theaters on May 20.
Staff Writer at CinemaBlend
Your Daily Blend of Entertainment News
Thank you for signing up to CinemaBlend. You will receive a verification email shortly.
There was a problem. Please refresh the page and try again.