New Exodus: Gods And Kings Poster Reveals A Golden Look At Christian Bale As Moses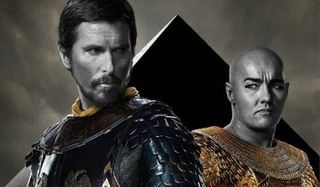 Behold, our first poster for Exodus: Gods And Kings , the new Ridley Scott film, courtesy of Yahoo . That's Christian Bale as the Moses with the mostest, and that's a head-shaven Joel Edgerton as Rhamses, looking pretty Yul Brynner-ish. "Once Brothers, Now Enemies" is a tagline that suggests they're taking the epic story of Moses and making it a bit more personal, more intimate. Because somehow there's got to be a way to make MOSES relateable.
This is an... interesting poster. The clashing color schemes of black and white with gold is certainly eye-catching. But for a Ridley Scott movie, is the visual you want to go with really two dudes playing dress-up in front of what looks like a pyramid poster purchased at Spencer's Gifts? It looks less like a movie and more like a fragrance ad, or a documentary on television perhaps. Does Christian Bale know that if he turns around abruptly, he's going to accidentally stab Joel Edgerton? Somebody warn Joel Edgerton!
Heck, where's the advertising hook? I can imagine that this is the first of many posters that will hit the market soon, but why can't you find a way to slap some sign that tells people, "Hello? Batman is MOSES." Where's the whole, "Academy Award Winner Christian Bale" tag? Don't you WANT that on your movie? It's debatable as to whether Bale can open a movie on the strength of his own name, but Fox already made that gamble by, you know, actually casting him. Joel Edgerton is less well-known, and hasn't been able to find traction in Hollywood despite his obvious talent. But maybe, "Christian Bale Is Moses, Joel Edgerton Is Rhamses" at the top of the poster wouldn't have been too hard, right? Or is the terrible Photoshop already making this a crammed poster? It's a damn poster, Fox. You could have gotten these guys in the same room.
Oh, and maybe you could have used, "From The Director Of Gladiator." There's a freebie, ad wizards.
Regardless, Fox is gambling that this is going to be the film to beat this holiday season, and hey, maybe this Oscar season too. Exodus: Gods and Kings hits on the primo date of December 12th, where it will tango with only the limited release of Inherent Vice. The coming weeks provide more competition with fare like The Hobbit: Battle Of The Five Armies and Into The Woods , but this is going to be first choice to a whole bunch of audiences on Christmas. Exodus: Gods And Kings is just beginning its ad cycle, which means we can expect a trailer soon. Until then, we'll have to wait for further peeks at a cast that also includes John Turturro, Aaron Paul, Sigourney Weaver and Ben Kingsley.
Your Daily Blend of Entertainment News
Your Daily Blend of Entertainment News
Thank you for signing up to CinemaBlend. You will receive a verification email shortly.
There was a problem. Please refresh the page and try again.